Year 10 & 12 Update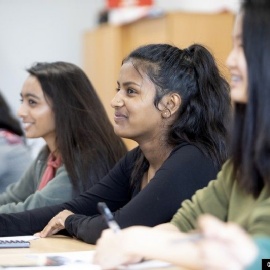 These same plans are being put in place across all three schools in the Girls Learning Trust.
Following on from this we need to have an understanding of how many girls will attend the 1 : 1 sessions. Please would Year 10 and Year 12 parents complete the survey below before Midday on Wednesday 10th June.
The survey is not longer available
There will be a booking system that will be sent out at the end of week commencing 6th June so students can be booked in for the academic consultation.This booking will only go to the parents who have indicated they wish for their daughter to attend a session. We envisage students receiving at least one mentor session with two sessions being the maximum. The first round of these will be complete by Friday 26th June. At the end of that week we will survey all of Year 10 again in case the guidance has changed and you then wish for your daughter to have a session.
In addition to the academic mentoring sessions we will also be running online MS Teams meetings which will be timetabled for each subject in Year 10 on a 2 week timetable. These sessions will allow for students to ask questions and receive feedback from their teachers based on the work that has been set in the booklets and YouTube tutorials. Each teacher will see their class at least once per fortnight for each subject. Should students in Year 10 require additional work beyond what has been set they must contact their teacher who will assist them with this during this session. We will send out guidance for students on how to access MS Teams and the timetable for these sessions this week.
The online sessions will continue for Year 12 also. Teachers will be in contact with Year 12 students directly to organise their MS Teams sessions.
The key worker hub remains open and we will continue to offer support in school for those students whose parents are key workers, those who are not accessing the curriculum or those who continue to need our support. If you feel your daughter is in this category please contact the School Office and let us know. Students in this hub are working on the same content as they would have been at home but they are supported by one of our members of staff.
We know that you will be concerned about your daughter's education and we are too. Please continue to encourage and support her the best you can. Each school in this Borough will set out the next 6 weeks in their own unique way and we cannot compare like-for-like; each school is different. The approach we are taking as a Trust and the reasons behind this have already been highlighted. At CHSG we must balance the continuous moving forward of education with the health, welfare and safety of your daughters, something I know a large majority of you have made contact with me about. For that to happen we must continue working together for the good of everyone.
Finally, I wanted to say thank you again to you all – I know how difficult it is at this time for you but you are doing a great job!
Take care
Mr M Devenney