Another Amazing Year Comes to a Close
It was a year that began with record results, followed by new facilities and throughout the year many fantastic events and trips.
It was a year that began with record results, followed by new facilities and throughout the year many fantastic events and trips.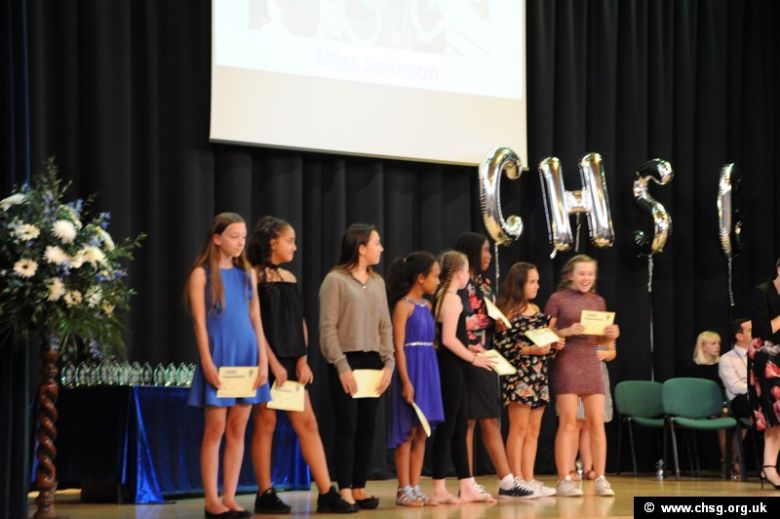 Some of the most recent have included all our celebration events: Year 7 Celebration of Achievement, Year 8 Graduation, our celebration assemblies, Sports Award Evening and the Year 13 and Year 11 Proms! There have also been a huge number of trips and visits, both this term and through the year, with over 200 trips giving students additional opportunities outside of the classroom, including trips abroad, such as the outdoor activities trip to France and the MFL trip to Malaga in Spain.
The main focus this term has been on examinations: public examinations for Years 11, 12 and 13 and end of year exams for all other students. The formal assessments in Years 7 to 10 are so crucial for preparing students for the real thing.
Through the year the school has faced the constant challenge of a reducing budget and I would like to thank those parents who did lobby their local MP to raise the profile of this issue. Along with all schools locally we have had to make some very difficult decisions and choices, but are determined to ensure high quality provision remains in place for the students. I would also like to thank those parents who have helped us by contributing to school fund and if you have not done so yet, it is not too late! Our Finance team will be happy to assist you.
It is with sadness that we say goodbye to several members of staff.
Firstly, we say a very sad farewell to two outstanding subject leaders who are retiring. Ms Butler-Salvidge has been at the school for 38 years. She has dedicated her teaching career to the students at CHSG and during her time here, both as a teacher and as Leader of the Vocational Department, has secured amazing examination results and career pathways for thousands of our students. Ms Butler-Salvidge has made a huge contribution to the school and we cannot thank her enough for her loyalty, commitment and dedication.
Ms Ridout, Director of English, is also retiring after 26 years at CHSG. Ms Ridout is a fantastic teacher who adores her subject and her department. Again, thousands of students have benefited from her passion for Literature, and she has instilled and inspired in many a love of reading and writing. She leaves behind a hugely successful and effective department and we thank her for everything she has done and the huge contribution she has made to CHSG over the years.
Both Ms Butler-Salvidge and Ms Ridout have decided to explore life beyond teaching and we wish them both a very long and happy retirement.
Mr Choudhry is leaving after eight years at CHSG. We thank him for all his work and the spirit he has brought to the Maths Department. That enthusiastic and fun spirit has also led Mr Choudhry to contribute to the wider life of the school in a whole variety of ways and we thank him for this. Mr Choudhry is taking up a
management role at a school and we wish him all the very best.
Mr Waterman is also taking up a post at another local school. Mr Waterman joined the school in 2010. He has been a dedicated and hard-working member of staff throughout his time at the school. He has contributed to the development of the ICT Department and his knowledge and skills around Computer Science from his previous industrial background has been of particular value. We thank Mr Waterman and wish him well in his new post.
Miss Park, Head of Chemistry, leaves us to re-locate to Bristol. Miss Park joined the school in 2013 having come from Canada. Miss Park is an excellent teacher and we were delighted to be able to employ her when she first arrived in the country. She has played a major part in securing very good outcomes in Science, both for her own students and through her role as Head of Chemistry. We thank Miss Park for her commitment and work and wish her well in her new life in the West Country.
Ms Downer is leaving us to move abroad. Ms Downer has been a highly valued member of staff during her three and a half years at the school and has made a major contribution to the Maths Department. We thank her for her commitment to CHSG and wish her all the very best for the future.
Mr Patel, Co-Director of Maths, leaves us to take up a Head of Department role in a Croydon school. He has introduced a number of new initiatives whilst being Co-Director. We thank him for his work and in particular the extra-curricular support given to students to support them achieving good outcomes.
Mr Worrell is leaving us. We thank him for his contribution to both the Maths and Science departments. We wish him well in his post at a local school.
And finally with regard to teaching staff, we say thank you and farewell to two members of staff who have been on temporary contracts. Firstly, Ms Agunsoye, Teacher of Child Development and Health and Social Care and secondly Mr Blackmore who has been on a temporary contract covering a maternity leave. We thank them both for their hard work and wish them both all the very best for the future.
Two members of our support staff will also be leaving us, Miss Paice, who began here as a cover supervisor and has gradually undertaken more teaching, leaves us to do her Qualified Teaching Status accreditation. We wish her all the very best. We know she will make a fantastic teacher as she has been doing so much here already, and hope that there may be a position for her to return to in the future.
Mr Rowe, Deputy Network Manager is also leaving. Mr Rowe is re-locating to Edinburgh. We thank him for his quiet, but highly effective contribution to keeping our IT systems up and running. We wish him all the very best for the future.
Finally, I would like to draw your attention to the recent letter sent out by Miss Holland on safeguarding and keeping children safe. The letter is being sent as part of a national and Sutton initiative to work with parents on highlighting the growing issues around the well-being of young people. The information in the letter and the further information in this newsletter is to raise the profile of the issues with parents as well as providing help and advice on where to seek further support should it be needed. Further information is available on the website by clicking on the Wellbeing slideshow on the home page.
That just leaves me to thank you for your support over the past year. It has been a wonderful year with so much to be really proud of.
I wish you a wonderful summer break; let's hope the sun starts shining!
Mrs V Jones, Headteacher