We've hit the ground running!
There is no part of the academic year that isn't busy and this one has started with us having to hit the ground running.
There is no part of the academic year that isn't busy and this one has started with us having to hit the ground running with many different things going on. It began with a wonderful Prize Giving evening on 10th September and staff and students have been involved in all sorts of activities since.
Transfer to High School
The focus for many Year 6 parents at this time of year is transfer to secondary school. This means schools are very busy with their open season, which includes Open Evening and for us, a series of open mornings in order that parents can see the school at work.
This year it has been a very successful season with over 500 families visiting on Open Evening itself, followed by over 100 more during open mornings. Feedback from parents has been consistently very positive; in particular praising the students who have taken them round and who they have come into contact with on tours. My thanks to the many, many students who have been involved in this process and well done for being such wonderful ambassadors for the school!
Other activities
Students have also been involved in a vast array of other activities from sports fixtures, to theatre trips and auditions to Geography field trips to MFL activities to RAG week led by the 6th Form and it is not yet the end of October. My thanks to staff for giving their time to organise and run these activities that give students the opportunity to participate in a range of learning experiences beyond the classroom.
Policies
Mobile Phone policy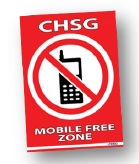 The new mobile phone policy has been in place now for half a term. An early review just undertaken has shown that it has undoubtedly had a positive impact. There is less distraction on a daily basis, particularly around discussions and issues arising from social media. I would like to thank parents for their support which has enabled us to move to the new policy quickly and effectively.
Uniform
This term has seen excellent standards of uniform across the school. Students are looking incredibly smart and I am determined that this high standard is maintained. Parental support is again crucial in ensuring this happens and I would ask for your support in ensuring your daughter is wearing the correct school uniform on a daily basis.
E-communication
We continue to try to make all our communications with parents electronic. In order to do so we need an up-to-date email address. Please ensure you inform us if you change your email and let us know if you we do not have your email listed. You can do this via our website by going to the data collection part of the useful links section at www.chsg.org.uk.
New Build Update
The new build is going well with the programme being almost bang on schedule. The roof is nearly on and soon the fixing of the walls which are being prepared off-site will be the next step towards completion. A reminder that regular updates are given on our website, so keep logging in!
We are also undertaking some fund-raising to put towards facilities in the new build, aiming to raise at least £10,000 for equipment that all students will use. Parents can help us in a variety of ways and Mr Rahman, Assistant Headteacher will be contacting parents shortly to outline how.