Head Teacher's Message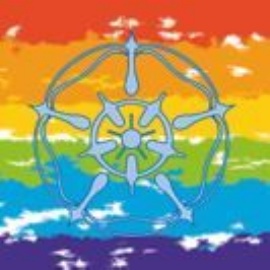 Pride Month is held each June and celebrates LGBTQ+ communities all around the world.
Here at Carshalton High School for Girls we will be running a number of events and showing our support to the members of our community who are LGBTQ - from rainbow lanyards to showcasing famous LGBTQ+ people. We want to use the entire month to educate and celebrate our value of 'Be Together' and to make sure that all members of our community feel valued, safe and informed. More details of events will follow in our newsletters and look out for our special edition 'Celebration of Diversity' newsletter later in June.
F Block
Work has started on the demolition of F Block. Over the past weeks we have been clearing the contents in preparation for the actual deconstruction and we are very excited to see the work that will be going on over the Summer up until November. With us growing in popularity so much, this space is very much needed! I cannot wait to see the finished building and it will be a fantastic space for Art, DT, Food and Photography lessons.
Reading
As we move into the final half term we also move into the final Tutor-Reads books. Since September students have been reading at least one book per term with their tutor as they travel through the year. Reading is one of the biggest (if not the biggest) determining factor whether students will be successful or not both now and in the future. We encourage parents to make sure students are reading for pleasure at every opportunity, 15 minutes per day rising to 30 will make such a huge difference.
Parental Feedback
We will be contacting all parents in the next few weeks to get your views on the school and how we have been progressing this year in preparation for next. Your viewpoint is important to us and it is important that we have many responses, so do take the time to complete the questionnaire when it arrives.
Second Hand uniform
We want to give all our students access to a high quality uniform and we understand the expense that comes with purchasing new garments. We would be very grateful if you would donate your old uniform to the school so we can set up a regular shop for all our parents/carers. Full details can be found below.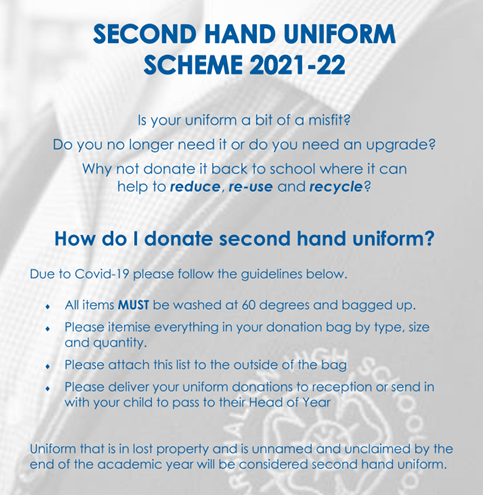 House Team Food Bank
Please do take a look at our website page with information regarding our House Teams Food Bank project running from 6th June until 1st July. All donations will be going to Sutton Night Watch and Purley Food Hub to support those in need.