Phased Return to School
Following on from last week we have now finalised our plans for students to return to school from Monday 8th March.
Return to School
Before we can start any face to face learning we are required to carry out a lateral flow test (LFT) for each student and as long as the test result is negative they may return to lessons in school.
We are then required to test students twice more within the next 10 days. This is a huge undertaking (up to 4500 tests) and as a consequence the return to school will be phased following LFT screening. We are carefully planning this and we will send further details regarding specific year group timings of the return to school and how we will carry out testing for each year group.
It is important that our educational provision remains continuous with as little disruption as possible. Work will be set for year groups that are undergoing testing so they don't miss that day's learning and each year group will begin face to face teaching on the school site the day after their first lateral flow test, providing the test result is negative. The plan for the first week is as follows: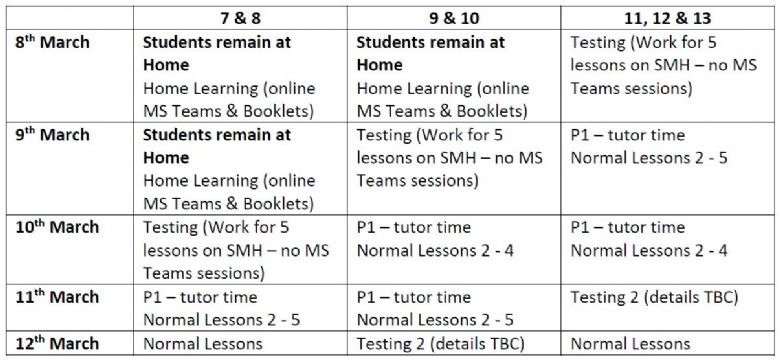 All student must be in full school uniform, including students attending the hub.
Lateral Flow Testing (LFT)
Lateral Flow Tests are not compulsory but we strongly urge that students participate in the programme of regular rapid testing. The more students engage with it, the more effective our system of controls can be. We want to keep as many students in school as possible.
In order for us to plan our testing effectively we ask that all parents/carers complete the survey using one of the following links (year appropriate):
The testing of students is voluntary and we will require consent from parents/carers (Year 7 – 11 students) or the students themselves (Year 12 -13).
Every parent/carer should complete this survey regardless of whether they give or withhold consent. We ask that you complete this survey by 5pm on Tuesday 2nd March 2021.
Communication
I appreciate there is a lot of information at this time and we will continue to send it out in a timely, concise fashion as we head towards 8th March. The next communication on Monday will focus on LFD testing and more specifically the plans around procedures and timings.
Mr M Devenney, Headteacher