Bonjour, Hola, Guten Tag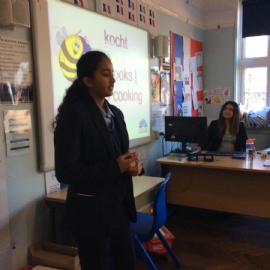 Following on from the news item about our Stage 1 winners of the MFL Spelling Bee competition 2020 we have more news!
The Stage 1 winners competed against each other to see which three students would excel to represent CHSG at the regional competition.
The winners of the Stage 2 competition are:
Sameen who will be representing German
Nerissa who will be representing French
Isabelly who will be representing Spanish
Well done to everyone who took part but a particularly big well done to our three finalists.
The regional competition will take place on Monday 27th April in a school in London to be confirmed.