Values of the English Department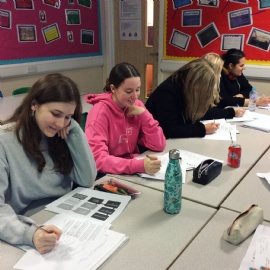 The English department at CHSG is driven by the shared belief that making students cleverer in English Language and English Literature is a noble pursuit.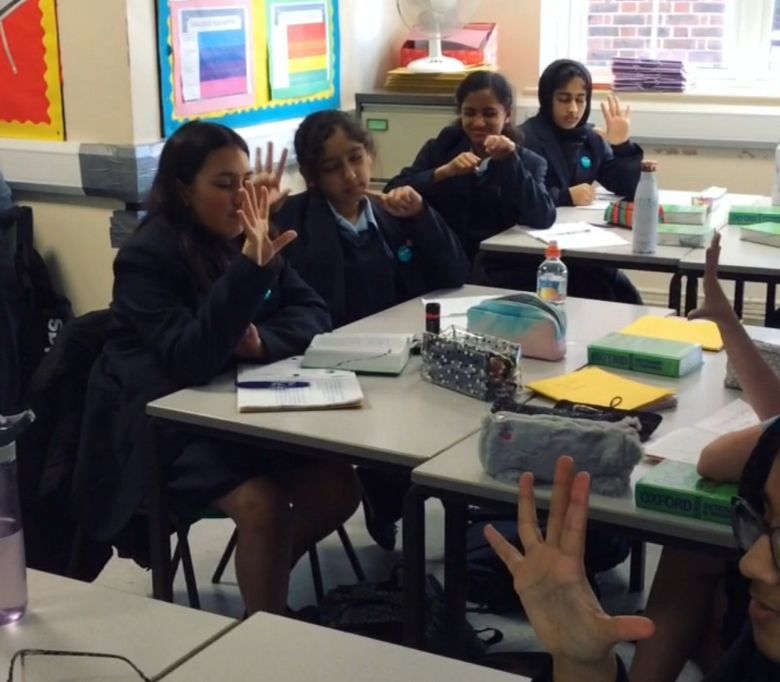 As human beings, we understand ourselves, each other and the world better through what we read, listen to and tell. Appreciating the beauty of language and great literature, their power to inspire, communicate and articulate is a lifelong source of joy and enables our students to 'join the greatest, longest conversation of humanity'.
Our Curriculum
At Key Stage 3, the curriculum aims to promote high standards of literacy and language and to develop a lifelong love of literature. From Years 7-9, students will experience carefully chosen literature from the three main genres (Poetry, Drama and Prose), studying a unit on each every year.
The themes of the texts are of the most enduring and compelling in literature across the ages, ranging from Identity, Childhood, Power, Survival, Inequality and War. As required by the National Curriculum, students will read two Shakespeare plays and pre-1900 texts as well as contemporary fiction and seminal world literature.
For each year group, there is a special unit designed to enrich students' understanding of the greatest influences on English Language and Literature. In Year 7 students explore stories and characters from the Bible, Greek mythology, folklore and Shakespeare's 'The Tempest'. In Year 8 'A Christmas Carol' by Charles Dickens introduces students to the Victorian era and its literary preoccupations. In Year 9 instruction in the art of dialectic and rhetoric prepares students to speak and write convincingly and eloquently.
Throughout Key Stage 3, students will have a Knowledge About Language (KAL) lesson once a fortnight which is designed to build purposeful mastery in the mechanics of grammar.
In addition to this, every year a unit is delivered that aims to develop your daughters as independent learners by giving them projects to extend their skills as writers, wider readers and broaden their knowledge of 19th century literature (all key foci of the reformed GCSEs).
The GCSE course begins in Year 10 and follows the AQA exam board syllabus in both English Language and English Literature. Both courses are taught using an interleaved approach throughout the two years, aiding coherence and harnessing the synergy between both disciplines.
A Shakespeare tragedy will be studied at this key stage, as per the National Curriculum, for the Literature exam. Building on Key Stage 3, a modern play, a 19th century novel, an anthology of poetry which includes pre-1900 writers and unseen poetry skills are also studied.
The KAL lessons continue with the emphasis on applying the knowledge taught over the 5 year programme of study to produce whole pieces of analytical, discursive, narrative and descriptive writing.
By March in Year 11, both courses will have been taught in their entirety and a revision programme will begin, addressing the knowledge gaps, misconceptions/fluency errors and providing opportunities to flourish and enhance students' strengths.
The Key Stage 5 curriculum covers the requirements of the National Curriculum to continue in Shakespeare studies but also increases the breadth and depth of experience of literature through the ages. The course is split into two sections.
Love Through the Ages requires students to explore aspects of a central literary theme as seen over time, using unseen material and set texts.
Additionally, Modern Times takes the end of World War 2 as its historical starting point and explores both modern and contemporary literature's engagement with some of the social, political, personal and literary issues which have helped to shape the latter half of the 20th century and the early decades of the 21st century.
The culmination of preparing our students from Year 7 to be independent learners is fulfilled in In Texts Across Time, where students write a comparative critical study (much like a university dissertation) of two texts for coursework.
Lessons are taught in the usual secondary school style but at Sixth Form the university-style formats of lectures and seminars are adopted to prepare our blossoming undergraduates for Higher Education.
What Parents Can Do to Support our Work in the English Department
Accelerated Reader (our reading monitoring programme) and Wider Reading Lessons from Years 7-10 are predicated on the assumption that students will read for a minimum of 20 minutes every day. Ask your daughters about what they are reading for pleasure, help them to find texts from the recommended lists and check they are reading every day. In particular, reading Non-Fiction such as broadsheet newspaper articles from The Guardian and The Telegraph (most often used in exam papers) is something that can be supported from home.
In the same way, talk to them about the texts they are currently studying in English, even if you are not familiar with them. Even better, read them at the same time!
Invite your daughter to read her written compositions to you or allow you to read them. Be positive when you do – praise is a great motivator.
Purchase the GCSE book bundles for Key Stage 4 and possibly the recommended revision guides also (York for English Literature and Collins for English Language).
Help your daughter with the memorisation work she has to do, especially by testing her on the quotations for GCSE English Literature.
Make sure your daughter goes on the Globe Trip each year. It is the best cultural experience for enjoying the study of Shakespeare.