Romeo & Juliet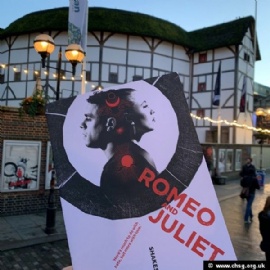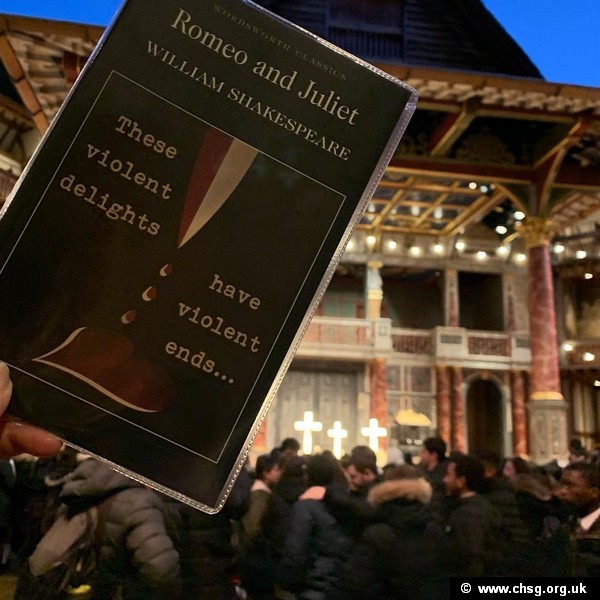 On a wet and windy night, 180 students and 20 members of staff went to the 'Playing Shakespeare' Deutsche Bank's 2019 production of 'Romeo and Juliet' at the open-air Globe Theatre.
This is a GCSE English Literature set text so many of our students were keen to see a live performance the way Shakespeare intended it to be experienced. Students were delighted with the dynamic stage directions and stage set.
"It was such a surprise entrance when Benvolio and Mercutio jumped out from the smoking trapdoor" and "it was clever the way the Prince gave his speech using a megaphone hanging from the heavens on a rope".
The small troupe of actors gave memorable performances making the students re-evaluate their thoughts on certain characters:
"Juliet was feisty."

"Romeo had a strong emotional presence"

"The Nurse was hilarious - her facial expressions were really sarcastic."
Mrs Bhatt, Party Leader and organiser said,
"This production was particularly great to watch as a girls' school. Both Benvolio and Tybalt, traditionally male characters, were played by female actors. What they brought to the roles - a mixture of sass, assertiveness and feminine wisdom - was the perfect reminder that Shakespeare wrote timeless pieces that will speak to every generation."
All in all, it was a fabulous cultural experience for staff and students alike and a reminder of how privileged we are, among all the students across the world studying Shakespeare, to be able to watch performances in the very theatre where the greatest writer of all time originally worked.