Sport Scholarship Life at CHSG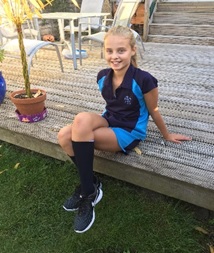 Lily is one of our Sport scholarship students and we asked her a few questions about her first year at CHSG as a scholarship student.
Question 1: What it your favourite lesson and why?
My favourite lesson is Dance. I find it's a form of sports and P.E where you really get to express yourself and show your personality. It's not like some other sports where you have to play it a certain way, you can choose your style and move to your own beat.
Question 2: What extracurricular clubs do you go to?
It's the start of a new year, but last year I attended netball, handball and rounders but also took part in athletics, cross country and borough sports. I plan to attend fitness this year to help me in all types of sport, and maybe even dance, gymnastics, or trampolining.
Question 3: What teams do you represent at CHSG?
Again, a new year has just begun, but I used to represent the netball, rounders and handball team. I also used to attend athletics competitions such as cross country and borough sports. I'm looking forward to representing the school again this year!
Question 4: What have been your highlights in CHSG?
My highlights of last term have definitely been some of the fantastic trips we were able to take part in, especially Loughborough University and the netball and football PGL. I went on this PLG with the netball team and I enjoyed every minute. We played multiple matches with other schools and came out on top! We even won the umpire award and met a professional netballer! As well as this, we had a day or two exploring the exhilarating PGL rides (my favourite was the giant zipwire!) But its not just trips I enjoy, the whole community of the P.E department is so warm and welcoming and it's a lovely place to help out and spend some spare time.
Question 5: What advice would you give to any Year 7 student?
I know they've probably heard this a million times before, but I would say get involved! Take part in as much as you can because not only is it fun, but it gives you a chance to build your own reputation and get to know the others on your teams. Also, if you join one club, you might take part in a match, where you might decide you enjoy competing which leads on to new clubs and new trips and before you know it, you'll be as successful as you can possibly be. 😊
Question 4: What extracurricular clubs do you do outside of school?
Outside of school, my main sport is dance. I spend long hours in the dance studio working on pirouettes and jumps, leaps and all sorts of tricks, rolls and moves. I've performed in places like The Royal Albert Hall and Sadler's Wells with some of my closest friends and it makes all the hard work worth it. I've recently had to give up a few great sports to narrow it down a bit so that I can focus on the scholarship and dance, but I do also enjoy trampolining, gymnastics and swimming.