Developing a Principled Curriculum
The CHSG Curriculum is principled and has clear aims.
This applies within and across all subjects. This consistency has been achieved by reconsidering and clarifying our aims and planning expectations in all the subjects we teach.
The journey to clarity on the intent of our curriculum to secure great teaching and learning at CHSG has involved a rigorous process involving students, teachers, Heads of Department, Lead Practitioners and Senior Leaders. We set out to plan a consistent, principled and knowledge rich curriculum that also encapsulated the unique strengths and demands of each subject and which suited the requirements of our wonderful students.
The process started with a Working Group of Senior Leaders and Lead Practitioners. The group set out to craft a statement of intent and aims that would apply to all subject long-term and medium-term planning. After much drafting and redrafting a statement was agreed. It was then presented to a group of students from across year groups who agreed it reflected the best aspects of their experience and what they wanted CHSG to provide them with.
Curriculum Statement

The Carshalton High School for Girls curriculum prioritises embedding a culture of learning with opportunities to achieve far beyond limitations.

Students are challenged and supported to be knowledgeable, inquisitive, resilient, and empowered young women.

The curriculum provides parameters for effective and consistent pedagogy while promoting autonomy for each individual component subject's unique demands.

It builds and develops students' knowledge, skills and abilities coherently to inspire success and encourage aspiration in preparation for the next stage, regardless of what that might be.

Our curriculum is crafted to fulfil the demands of the national curriculum yet goes far beyond this to invigorate and enrich the overall student experience, therefore unlocking the potential of all.
We were determined that our curriculum would reflect our aims for all our students at CHSG, regardless of the subject being studied. It shows our commitment to our students having the knowledge and skills they need to thrive in modern society. We were also determined that it would correspond our context and aspirations as an all-girls comprehensive school as much as it fulfilled our statutory requirements. The statement is now the starting point for all curriculum planning in all subjects in the school.
The Working Group then identified overarching aims for all subjects' curriculums.
Curriculum Aims

RELEVANCE: provides content that is relevant, interesting and appropriately challenging to students
COHERENCE: builds and sequences knowledge, in a coherent manner combining both depth and breadth
COMMUNICATION: develops the ability to communicate with increasing effectiveness and sophistication
CONFIDENCE: supports the development of confidence and self-regulation in facing the challenges of learning and life
INSPIRATION: inspires students to become lifelong learners and active, responsible citizens
The Curriculum Aims show awareness of how our students learn best as well as unpacking the broader purpose of the Curriculum Statement. They also capture the best aspects of effective pedagogy in our all-girls environment. All departments have explicitly applied these aims to their own planning. Again, this has served to achieve consistency in the design and application of the CHSG Curriculum. This extract from the Drama curriculum is a good example of this:
C. COMMUNICATION: develops the ability to communicate with increasing effectiveness and sophistication

Apply drama techniques in increasingly sophisticated ways to communicate meaning through performance.
Increasingly sophisticated theoretical understanding of how the application of drama strategies can impact an audience.
Communicate methodological understanding of key drama practitioners in purposeful ways, both in performance and written work.
Understand and apply effective structures that can be used to develop portfolio and exam responses.
Rigorous return to the basics, where necessary, of audibility (projection), visibility (effective use of stage space) and staying in role (focus).
The objectives of departments' curriculum was also clarified and recorded. The 'Big Ideas' at Key Stage 3 and exam board Assessment Objectives for Key Stages 4 and 5 formed the basis of this. Again, this is made explicit in long term plans.
We then set out to promote the application of our curriculum aims by developing more consistency in our schemes of work. We also wanted subjects to retain the ability to plan in ways that suited them best. We decided that rather than restricting subjects to a compulsory template we would clarify the planning requirements for every unit of study across all Key Stages. Heads of Department agreed that all units in their schemes of work would have these key features.
REQUIREMENTS

Aims: rationale of unit
Integration: Big Ideas/Assessment Objectives when and how will these be developed?
Auxiliary knowledge: what do students need to know to access the unit?
Prior Knowledge/skills: which of these will be developed?
Accrued knowledge: what will students know by the end of the unit?
Potential difficulties: what challenges/misconceptions are anticipated?
Assessment Opportunities: diagnostic and summative assessment tasks
Lesson titles: what are the key enquires in the unit?
Key resources: what resources are necessary?
Homework: what key wider reading/ tasks are required?
British Values: which British Values will be covered?
SMSC: which aspects of SMSC will be covered?
We have set out of develop a knowledge rich curriculum. Greater emphasis on planning for successfully accruing and retaining knowledge is reflected in Requirements 3-6. This has encouraged teachers across the school to implement the new curriculum with effective strategies that facilitate building of knowledge. This example from the Key Stage 3 History curriculum is an example of how our curriculum aims are now reflected in our schemes of work, while allowing for the individual demands of a subject to be incorporated: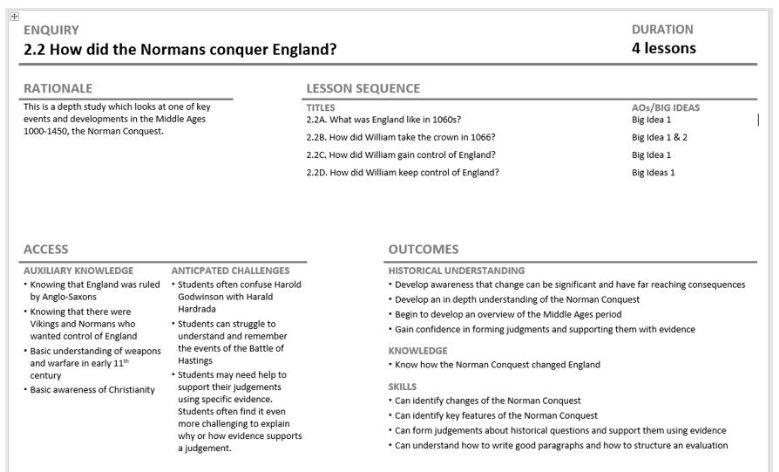 The development of the CHSG Curriculum remains a work in progress and it always will do. Now our next challenge is to build on our principles and planning expectations to develop greater consistency in how we record our plans for developing knowledge and conceptual understanding across units of work and Key Stages.