Teaching to the Top in Key Stage 3
Big Ideas
We have worked hard to maximise the level of challenge in our Key Stage 3 Curriculum to ensure that the 2015 Ofsted criticism of Key Stage 3 nationally being 'wasted years' does not apply at Carshalton High School For Girls, that in short our curriculum has breadth and challenge.
Our curriculum has remained broad throughout the recent years of upheaval and reform in the educational landscape, with students being taught a full suite of creative subjects as well as EBacc subjects.
Over the last three years we have focussed on challenge at Key Stage 3 to ensure students continue to develop by receiving a curriculum with rigour to match the breadth of the offer. A key pillar of this work has been the comprehensive rolling out of 'Big Ideas' across all subjects. All departments have used their Key Stage 4 Assessment Objectives to produce simplified but challenging 'Big Ideas' for their Key Stage 3 curriculum, and these in effect operate as the assessment objectives for all Key Stage 3 courses.
This work was piloted by three departments (English, History and PE) before being rolled out across all subjects. For example, in History, the GCSE Assessment Objectives were pared down and summarised like this: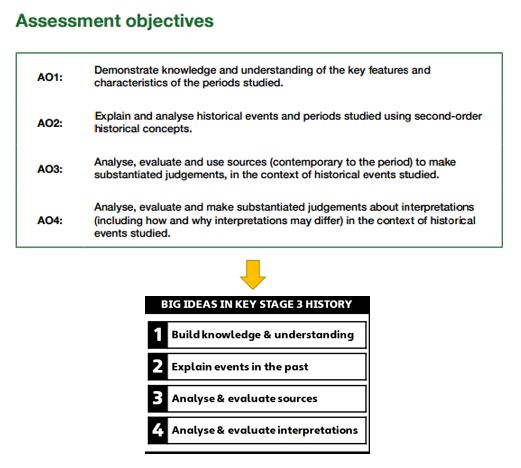 Similarly, Key Stage 3 'Big Ideas' in English and PE are: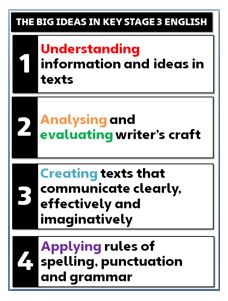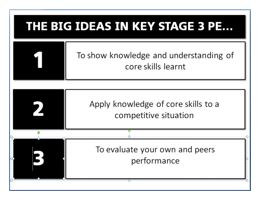 The 'Big Ideas' are thus accessible for students and are shared with them in inserts and in posters in classrooms. We decided that the posters would have a common design to promote the idea of consistent expectations and challenge across all subjects. It is common for teachers to make explicit reference to them at the start of lessons and before key assessment tasks.
The 'Big Ideas' are also noted in Schemes of Work to support effective medium-term planning across Key Stage 3. This has had the added benefit of developing the consistency of medium-term planning across departments.
We have found that a major benefit has been to smooth the transition from Key Stage 3 to Key Stage 4 courses. Students now start their GCSE courses with an understanding of the objectives that they are going to be assessed against at the end of Year 11 and find it easier to grasp what is required of them and how to be successful in these courses as a result.
The key outcome has been the enhancement of challenge across the Key Stage 3 curriculum. A key function of Key Stage 3 is to adequately prepare students for the demands of Key Stage 4. Sharing the objectives of the curriculum also facilitates better self-regulation of learning and awareness of how to improve which we find our younger students also appreciate and benefit from.