Supporting Spaced Retrieval Practice
Supporting spaced retrieval practice and interleaving through structured revision exercises
etrieval practice – the practice of recalling information with minimal support – is a key feature of teaching and learning at Carshalton High School For Girls. You'll see it in all lessons at CHSG, often in the form of 'Do Now' exercises that start lessons or perhaps multiple-choice quizzes that can be used both inside the classroom and via MS Forms.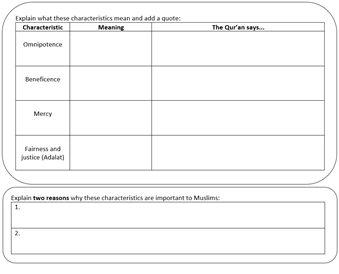 However, to truly harness the power of retrieval practice, it's important to look beyond using it as a tool to help master things like keywords. In GCSE Religious Studies, students are awarded marks for the depth of their religious knowledge on the majority of exam questions; to know a keyword meaning or a simple fact about a religion is not enough to get them the grades they aspire too.
I've always used revision worksheets in advance of assessments or exams. Typically, my students would divide a page up with different sections centred around a subtopic within a unit. The image here is taken from the subtopic about Allah which is found in the Muslim Beliefs' unit of the Edexcel GCSE. It asks the students to recall some keywords, some teachings from the Qur'an and to explain the importance of what they've been working through.
Without careful guidance and instruction, this resource and activity has limited impact.
A common problem with this approach is the lack of challenge or 'desirable difficulty' – the students are not really required to apply their knowledge. They certainly aren't required to self-audit their own knowledge (or manage their learning in a metacognitive manner) – and as teacher I had no way of really assessing what the students were gaining from the activity. With retrieval practice, the harder a student works to bring up a memory, the stronger that memory becomes. So how could I ensure my students thought harder, but also be realistic in my demands of their long-term memory?
I decided to stick with the format of revision worksheets, but to develop my approach. Revision worksheets are usually placed at the back of students' workbooks, but my first move was to print off duplicate copies for all. I had two aims here: a worksheet separate from a booklet would remove the temptation to immediately look up challenging questions. Also, crucially, our students hate to make mistakes – by emphasising that this separate worksheet was a rough or draft copy, it immediately lowered the stakes and encourage them to take risks.
Upon receiving the 'draft' worksheet, students were then given the following instructions: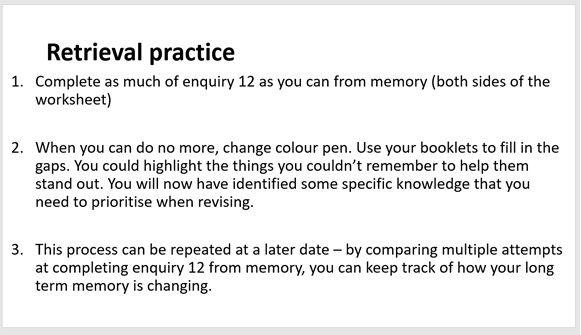 By changing colour pen / and or highlighting knowledge taken from their booklets, students now had a very visual record of their ability to recall at that specific moment in time – an important step in assisting our students on their journey to become metacognitive learners. The worksheet will be reissued in a future lesson with the process repeated (or students will complete the copy in their booklet in their own time). At the end of these revision lessons, time is given to a whole class, no hands up question and answer session which covers the revised content.
There are other exciting and potentially huge benefits of using these revision exercises outside of an assessment preparation lesson. Several researchers of retrieval practice champion the use of interleaving – mixing different topics or types of skills in order to form strong and useful memories. Research suggests that interleaving can help develop students' ability to problem-solve as well as improving their long-term memory retention. In Religious Studies we often build on concepts established in earlier units. Revision worksheets can be deployed to revisit prior learning that will support a new unit. As well as the benefits of interleaving, this also allows for the spaced retrieval practice that is crucial in strengthening long-term memory and hence the ability to recall. Our challenge is to now work out exactly when best to use these in advance of any given topic!
Another intriguing benefit of this approach to revision might actually happen prior to tackling a new unit. Research conducted in the US in 2017 showed that students who were pre-questioned on a topic prior to being exposed to the content actually performed better in subsequent recall activities than students who had been subject to no such pre-questioning. Even if pre-questioned students resort to guesswork in their initial attempt, it appears that having an idea of what to look out for in a new topic can actually strengthen the ability to recall. Year 10 students are currently developing their use of a related technique- SQ3R in work being led by Mrs Durrett.
A final thought: as teachers reflect on and improve their strategies, significant gains can be made by building on and adapting our resources and approaches than re-inventing the wheel.
Mr T Treagust