No Opt Out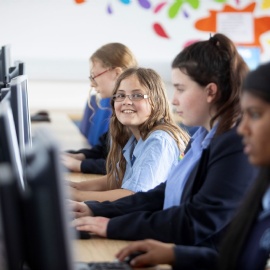 No Hands-up Questioning
At the start of this academic year, the Teaching and Learning team decided that we would revisit and reinvigorate our approach to no hands-up questioning. In short, we want to develop a culture of 'No Opt Out' in our classrooms. The goal of developing a 'No Opt Out' culture is that all students will eventually state the correct answer to a question in the classroom. To do this, CHSG teachers are developing a culture in the classroom where students will try to answer a question, rather than avoiding it. In the same way that we teach students how to behave, we also teach them that thinking hard is the only option in lessons at Carshalton High School for Girls.
To understand what we mean by this it is perhaps easier to think about what it is not. For example, if a student gives an incorrect answer in a lesson, that student is not opting out, in fact they are trying to participate, but getting the answer wrong. Instead, what we are seeking to eradicate is when in attempting to answer question a student might mumble or decide not to answer the question by saying 'I don't know' or refuses to offer an answer at all. This could also include students who only give surface level responses, without thinking hard about the answer they are going to give.
We've decided to introduce this style of questioning and to develop this culture in our classrooms because we do not want students to hide away from engaging in their learning. It can be tempting for students to try and be quiet so that they are not asked to contribute to a lesson, or even sometimes not engaging in the process of learning by not trying to think hard. We believe passionately that all students make the best progress when they are engaged in their learning and when they realise that although learning is hard, if they try to find the correct answer, they eventually will. Therefore, we have introduced a system where students no longer put their hands up (unless they want to ask the teacher a question) and teachers select students to answer at random or strategically instead. This does mean that at any point in the lesson any student could be asked to contribute to the discussion. This can cause some apprehension among students initially, but the thinking behind it is clear, we want students to participate and by participating we will see students make greater progress.
This year we have spent some time with teachers explaining that if a student fails to offer and answer to a question or simply says 'I don't know', there may be several possible explanations behind it and some of these may not be due to the student not thinking hard. For example, teachers have been encouraged to give more time for students to think properly. On average, teachers wait no longer than a second before asking for an answer after posing a question, so pausing to give more time for deeper thinking is a really useful strategy. We've also encouraged staff to consider planning their questions more thoroughly and strategically, so that there's no misunderstanding of what's being asked and so that the question is designed to encourage students to think deeply, so it does not result in only reactive thoughts.
Sometimes though, no matter how well thought through the question and no matter how much time is given, students may still say 'I don't know'. To counter this, we've encouraged teachers to develop strategies in order to overcome lazy thinking. For instance, a teacher might ask 'Why?' a student says 'I don't know' as there may be a genuine reason. For example, the student may be missing a key bit of information, or they may just not be willing to commit to an answer because they are unsure their answer is correct. In some cases, we might ask another student to answer the question and then return to the original student who's been asked for them to repeat the answer. This creates a culture where everybody must participate and everybody can repeat an answer at least, so that they are getting some things correct, thus building their confidence.
Mr C James, Assistant Head/SENDCo