Student Leadership at CHSG
At CHSG we strongly believe student leadership is one of the essential strands of personal development.
We encourage all students to take on leadership roles in the CHSG community and believe this is vital to developing our values and vision. The development of leadership provides opportunities for students to develop the characteristics of a successful person and improves academic success, opening doors in the future.
We believe that students should be given a wide range of opportunities to develop and practise leadership skills in preparation for life beyond school. When given the opportunity, students have a profound impact within our school. Involvement in leadership and student voice activities can improve students' learning as well as helping them to develop the skills needed to be successful outside the classroom. Many Student Leadership activities focus on improving the quality of teaching and learning in the classroom and supporting the our vision for inclusive leadership that generates a culture of shared responsibility and pride for staff and students.
Aims of our Student Leadership programme at CHSG
To provide opportunities for students to develop leadership skills through a variety of inspiring, challenging initiatives which impact positively on learning, teaching and well-being for both students and staff.
To empower students to work in partnership with their teachers towards our shared vision.
To prepare students for Higher Education and for achieving personal and professional excellence in life after formal education.
We have many students who are keen to be involved in the Student Leadership Programme and who wear their own specific coloured badges with pride which identifies them to all students in school.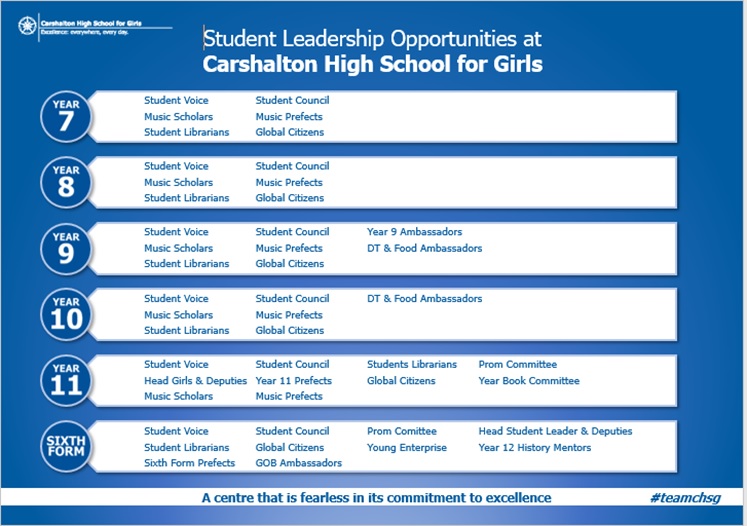 Student Leadership Team
The Sixth form Senior Leadership Team (SLT)
At CHSG we believe that our students should be given extensive opportunities to develop their leadership. Our Sixth Form Senior Leadership Team (SLT) are elected by staff and their peers and hold positions of responsibility in the Sixth Form and the whole school. The Head Student Leaders and Deputies are interviewed by the Headteacher and Assistant Head, following the application process.
The students who form the SLT have demonstrated excellent leadership qualities and commitment to Sixth Form. The range of leadership opportunities that we offer gives our students confidence and prepares them to be future leaders both at university and in their chosen careers.
Year 13 Senior Prefects
Prefects are selected following an application letter and feedback from the Sixth form tutor team. The lead prefect oversees the team and attends school council meetings. Their main role is to carry out duties during both break and lunchtime to support students across the school.
Girls on Board Ambassadors
This is an initiative to help girls between the ages of 7 and 18 navigate the often-troubled waters of friendship problems.
Girls on Board is an approach which helps girls, their parents and their teachers to understand the complexities and dynamics of girl friendships. By empowering girls to find their own solutions, parents need worry less, schools can focus more on the curriculum and the girls learn more effectively – because they are happier. We have a team of 16 GOB Ambassadors in Year 13 who help support this programme at CHSG.
Year 11 Head Girls
The Year 11 Students are invited to apply for a position through a letter of application to their Head of Year, a voting system is undertaken that involves all staff and their peers. Head Girls, Deputy Head Girls and Year 11 Prefects then are selected.
The Year 11 Head Girls and Deputies demonstrate excellent leadership qualities and commitment to both year 11 and the school. The range of leadership opportunities that we offer gives our students confidence and prepares them for post 16 life.
The Sixth form and Year 11 student leadership team meet regularly with the Head Teacher and the Assistant Head Teacher with the oversight for the Student Council.
Student Council
Student Voice
Each year group has its own Student Voice which is overseen by the Head of Year. Two representatives are chosen from each tutor group and 1 from each tutor group in the sixth form. Staff and Student Voice representatives in each year meet regularly to discuss matters of interest. This provides the girls with opportunities to debate initiatives and to take responsibility. Recommendations are shared with the School Council representatives to discuss at School Council meetings.
Student Council
The Student Council is elected from years 7-13 and is made up of 2 students from each year group. The Student Council supports the student leadership team and works with students and staff across a range of different areas including Diversity and Wellbeing, Teaching and Learning, supporting our community and charity work. The student council is student-centred allowing students to learn to work together to play a positive role within our CHSG community. Meetings are held twice during a half term run by the students with the SLT lead acting as facilitator and guiding agendas.
A number of the Council's recommendations have been adopted, such as improving the school's rewards system and the re-structure of the House system, with a focus on an inspiring female role model each half term and to rename the Houses. The Student Council al influences some staff appointments as student council members are often involved in the interview process.