Remote Education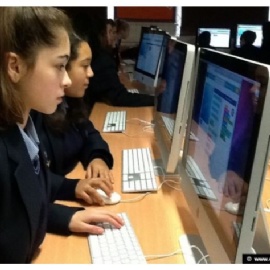 Over the past year teachers across the world have adapted to a newfound realm of education online in order to continue to teach students during school closures due the global pandemic.
At CHSG, teaching staff have reformed their practice to ensure all students continue to receive excellent education when they have been required to learn from home. Here is how we responded and what we have learnt.
Remote Education
At Key Stage 3 and 4 the development of bespoke, self-contained subject workbooks has been key to providing students with the foundations of our teaching and learning offering. During periods of remote learning workbooks have ensured that our knowledge-rich curriculum can continue to be followed effectively and rigorously. There is no difference in the units taught when students are learning remotely to when they are in school. Within workbooks students have access to subject specific reading material and space to complete learning activities. Workbooks have been fundamental in continuing learning, even when students have experienced limited access to IT and/or wifi. (You can read more about the development of subject workbooks in this teaching and learning blog: https://www.chsg.org.uk/blog/?pid=68&nid=87&storyid=1017)
During periods of remote learning, teachers guided students through their subject workbooks by using a combination of synchronous lessons (i.e MS Teams) and asynchronous resources (ie YouTube tutorial videos). This blend of online contact with the teacher allowed students to take part in live lessons where they had opportunities to ask questions and take part in discussions with other students; but also to take time to complete work independently following teacher instructions. A benchmark to a minimum number of synchronous lessons was issued to Heads of Department to create a timetable of lessons and asynchronous resources bespoke to their curriculum area. This gave flexibility to departments who wanted to offer more "live" lessons if this method was better suited to their subject.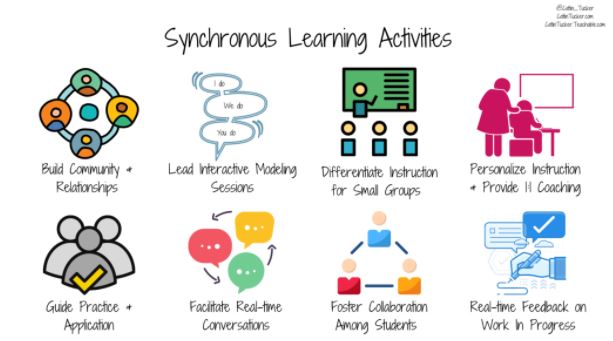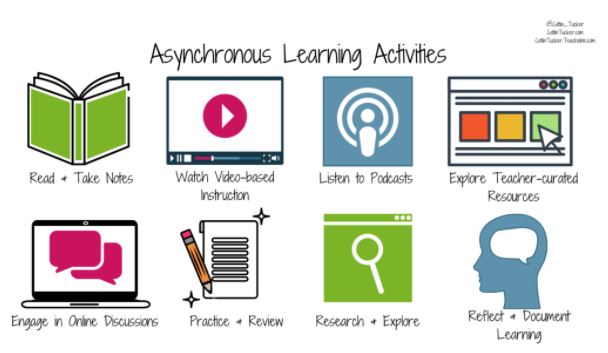 Remote Pedagogy
At CHSG we created a Remote Learning Handbook to guide staff to practitioners who had explored remote learning and could offer practical guidance for online lessons. Staff CPD was also focused on developing in this area, particularly during periods of national lockdown where training was delivered in the form of online discussion forums to share best practice and training videos. In terms of practitioners, we particularly explored the work of educationists such Daisy Christodoulou, Doug Lemov, Harry Fletcher-Wood, Paul Kirschner, Caroline Spalding, Rob Coe, Stuart Kime and Daniel Muijs. We challenged staff to take care and attention to the practices they selected for their synchronous and asynchronous lessons to ensure they were likely to be effective in achieving teaching and learning goals, rather than just setting busy work to keep students occupied.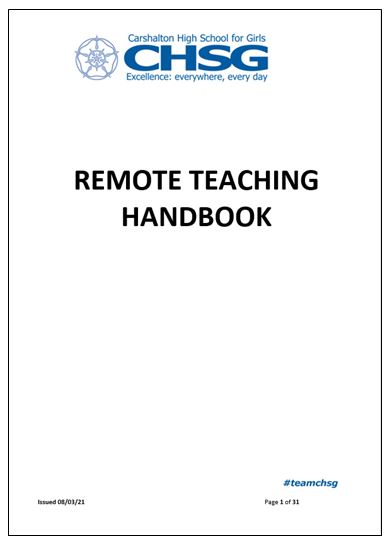 One of the most challenging aspects of being thrown in to periods of national lockdown was the ability to assess student work whilst students were at home and to provide effective feedback. Teachers quickly adapted to using online quizzing tools – such as MS Forms – to enable quick formative assessment and feedback in synchronous lessons, which we found particularly useful for assessing knowledge retrieval at the start of lessons. Another method we explored was the use of mini-whiteboards controlled by the teacher via an online platform such as https://whiteboard.fi/, which allows teachers to check for understanding using hinge questions or whole class response. As we developed our practice we discovered the value of using OneNote Class Notebook to enable teachers to create and set online activities/worksheets to be completed during live lessons. This method certainly improved student engagement and allowed teachers effectively to check for understanding and respond to students' needs during synchronous lessons. Once assessment work is submitted via OneNote Class Notebook teachers can provide feedback in various forms: verbal (recorded), written, stickers, grades, etc.
Supporting Our Students
Whilst working remotely, our aim was to ensure that all the components that make up our school are replicated during times of remote learning so that our students continued to receive an excellent multifaceted and inclusive school experience whilst working at home. Our pastoral provision continued through online tutor time sessions and telephone calls home to ensure students' needs were supported by their tutors, Heads of Year and the SEND Department.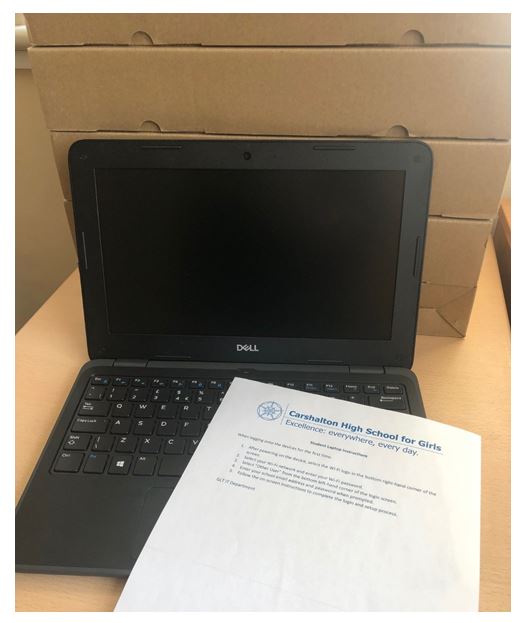 In order to support students who struggled to access online learning due to inadequate or poor IT provision at home, the school purchased and distributed a number of laptops to families who needed them. The school was also lucky enough to receive a large batch of laptops from the government which ensured that in total approximately 200 of our students were provided with laptops suitable for remote learning access.
What have we learned from educating students remotely?
Workbooks are here to stay
Workbooks meet the learning needs of our students and align with the priorities of the knowledge-rich CHSG curriculum. We have noticed that using workbooks has resulted in a sharper focus on learning. They also act as a comprehensive revision resource for all students, including those who have been absent from school.
Asynchronous resources (such as YouTube tutorial videos)
Tutorial videos are excellent resources for students, particularly to reinforce learning that has previously been delivered. They provide students with the opportunity to listen to teacher explanations again and again, at their own pace. Heads of Department have found these types of resources can be used to distribute knowledge to large groups of learners to ensure consistency across subject areas.
Technology is Useful
As a school we have really developed the way we have used technology within our teaching over the last year. Our school has invested in Office 365 for Education, and the online platforms available to us within this have enriched the way we teach and provide feedback, as discussed above. Moving forward we would like to explore how we can develop an even better Virtual Learning Environment for our students, a better way of managing staff projects online, and ways of incorporating online summative assessments which self-mark and provide feedback.
Teachers and School Staff are Incredible!
All of the staff at CHSG have been paramount in ensuring our school has been able to continue to provide excellent education to all of our students during these tough times.
The speed at which people learnt about new technology, adapted their pedagogy, wrote printed and posted workbooks, prepared laptops, managed home responsibilities, and supported our students and colleagues to do the same, is nothing short of amazing.