#CanDoMusic at CHSG
#CanDoMusic at CHSG – Teaching Music at CHSG during a pandemic
The CHSG Music department has seen this past year as an opportunity to change how we deliver music. When schools moved to remote teaching in March 2020, we overhauled our very practical in-school curriculum to be workable at home and to continue creating music. Our ethos has remained unchanged – all students can and should create and enjoy music, regardless of whether they are in school or at home. #CanDoMusic.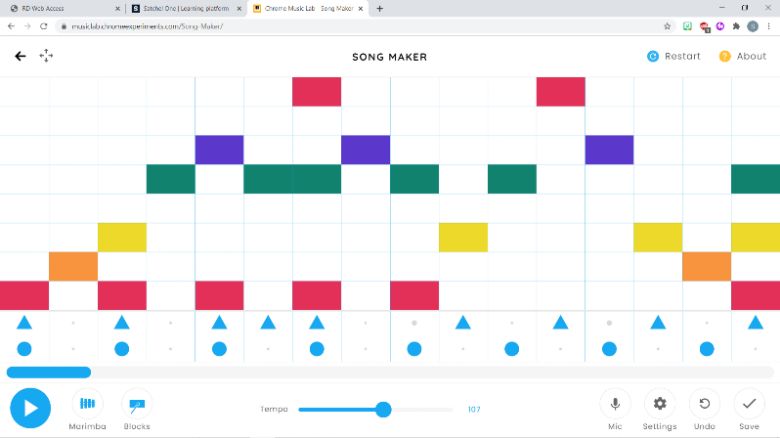 We quickly began using online software to support our students' music making and are continuing to use these tools in the classroom in school. For compositions we have been using online services such as Chrome Music Lab, Incredibox and DJ Beat makers for KS3. An example of music technology being used effectively to support teaching was shown by the Year 7 students, who used Chrome Music Lab to create a piece of music based on the pentatonic scale for an assessment piece. The work the students created was outstanding and they put their grasp of the concepts of the Music of Asia into practice in their compositions.
Key Stage 4 and Key Stage 5 students have continued to use free tools and software such as MuseScore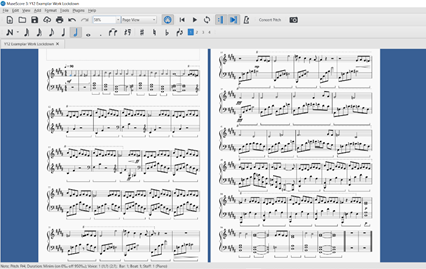 (a Year 12 example is below), EduBandLab, and Ableton Synths. They have also made use of Focus on Sound, funded through Sutton Music Hub. These have enabled us to continue work on our high-level compositions and listening, and for students to share their creativity. Students have been submitting audio performances and compositions via OneDrive and SharePoint during this remote learning, and more recently we have moved to Class Notebook for Key Stage 4 and Key Stage 5, where we have been able to give students feedback verbally through recorded voice notes.
This has been invaluable in sharing positive feedback and striving for excellence through continued progression despite being away from school.
For both in school and remote learning, we have created booklets that have supported, developed, and furthered the musical education of students. Our mixture of synchronous and asynchronous lesso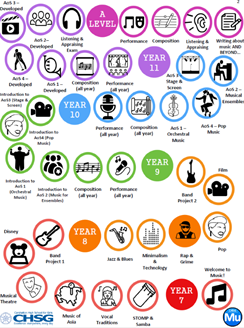 ns in lockdown have been extremely well received and students have commented on how the booklets have aided their learning. We have spent time making sure that there is a balance of practical and non-practical tasks to support all circumstances and home situations. Students have also enjoyed having visibility of their whole learning from Year 7 through to A Level and seeing how their music skills and knowledge progress through the roadmap in their booklets, along with knowledge organisers for each topic. Tasks that students have found most interesting have been the 'De-coding the piece of music' pages (the example shown is from Year 7 Musical Theatre), where they focus on musical notation followed by a practical using the pieces whilst at home either using their voices, online virtual instruments, or instruments available to them.
Comments from students include:
"I feel as if music has been one of the best supported subjects during this year. Whilst at home, my favourite thing I've learnt has been the pop music unit, especially when learning about the 80's and 90's pop. When the class notebook was introduced, I found it extremely helpful, as it has motivated me to do my work, since teachers can check what you're doing in real time and I get feedback quickly. The music department have also been extremely understanding and supportive of students during this time." – Ellie S Year 11.
Music looks different in the classroom currently, but we #CanDoMusic. We are very lucky that we have access to our Music Department and all our resources and equipment which has enabled us to complete as much of our curriculum as we can now that we are back in the classroom. Singing and large group ensemble work is regrettably still not permitted under current restrictions, something we hope changes soon, but we have adapted our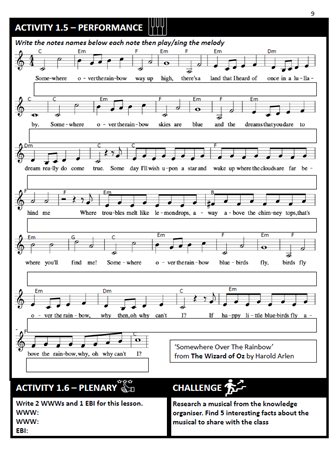 curriculum to ensure that students are still gleaning the knowledge they need and enjoying their lessons. Music lessons are different, with time added in for cleaning of equipment and sanitising hands, and only pair work is allowed. However, students are still able to enjoy and make music together in topics such as Rap & Grime, Music of Asia, Musical Theatre, and Film Music. Students are engaging with listening, reading, performing, and composing music which is brilliant to see on our return to school.
We are keen to restart extra-curricular activities as soon as it is safe to do so. We are looking to return our 'Live from the "Music" room' sessions on Teams until we can meet in person. Students can try fun, practical music tasks in a relaxed way and take part in musical challenges, discuss music events that have gone on, and watch concerts together! The next step is going to be year group ensembles with social distancing, but we wait until we can do this next stage safely. Our peripatetic music teaching has continued online throughout this pandemic and students are continuing to make great progress. We feel lockdown has enhanced the music education at CHSG and we are excited to further our students' music education in a safe and enjoyable way, whilst making as much music as we can.