How we design and use workbooks in Religious Studies
As an ancient profession, what more is there to teaching than the teacher imparting wisdom to the students, who listen and learn?
It is, of course, more complex than this in reality. Despite constant evolution, partly prompted by improving technologies, the basics haven't radically changed since I became a teacher over a decade ago. The students arrive in my class, we complete a series of related activities and they leave, with (hopefully) memories changed and better understanding.
Pre-pandemic, the creation of standardised workbooks was part of the school's long term teaching and learning strategy. The universal benefits across all departments were apparent as soon as the first workbooks were issued to students. Each department has a unique set of circumstances and challenges, but in this entry, I'd like to give you a perspective from one of the smaller departments in the school.
At the time of writing, as the teacher with responsibility for Religious Studies, the creation of workbooks has fallen mainly to me. Whilst this initially presented a workload challenge, I was pleased to have the opportunity to implement a standardised approach across the RS curriculum.
When the brief was given as to the elements that all workbooks should contain, one factor stood out: the students should not be at a disadvantage if they cannot access the internet. In the last year, the school have moved mountains to ensure that all students have the technology required to attend remote 'live' learning. Despite this, students attending lessons on MS Teams are often at the mercy of their broadband provider.
A second consideration (and one that was particularly relevant to me) was the usability of the workbooks from a teacher's perspective. Personally, I find it very difficult to pick up someone else's resources and teach. I know I'm not the only CHSG teacher who feels this way. Would another teacher be able to use my workbooks effectively?
My final consideration was the environment in which the students would be completing them. In schools we have historically taken for granted the notion of territory. We have control of the aesthetics and behaviour in the room in which we teach, but we can't take anything for granted about the setting in which our students are learning in when at home. We certainly can't assume that they'll be learning in an optimal learning environment.
Putting these three elements together, I decided that RS workbooks needed to not be reliant on students' auxiliary knowledge – if there was knowledge that I wanted the students to use, it had to be in the workbooks itself. This also partially solved my second consideration. When reviewing the resources that my lessons relied upon, it became clear that they were often series of activities, which would be linked through Socratic question and answer sessions in the lesson itself. Therefore, the workbooks needed entries that joined the dots for both students and teachers. An example of this is below – in this Year 7 lesson, I'm trying to get the students to understand the concept of Trinity in Christianity. I ask them to think about their different roles, before they identify H2O as the constant in the changing states of water, ice and steam. From this, we make the leap to one God, with three persons. In a 'normal' lesson, we'd join the dots through discussion, but I couldn't rely on this, especially if the students were to complete these activities in a 'non-live' lesson: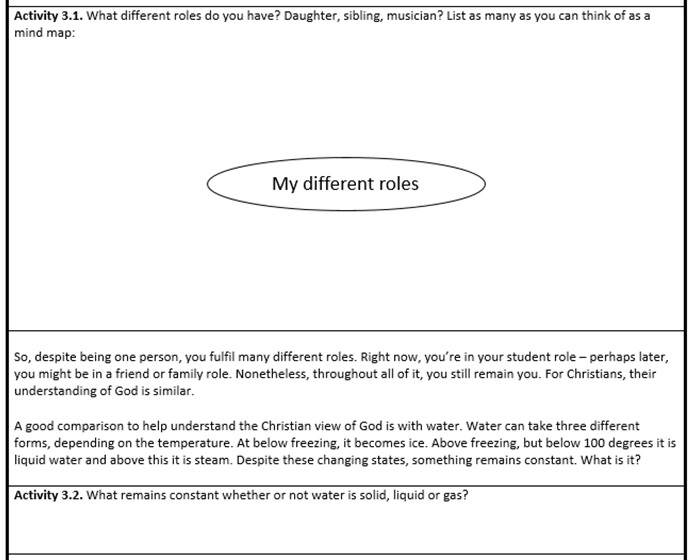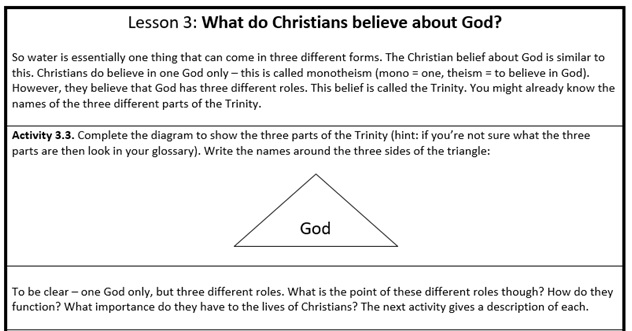 My third consideration – that of the variable environment in which our students would find themselves – was partially solved by using a standardised activity numbering system. The images above show how all activities are organised by a number (the lesson number) followed by a decimal place (denoting the order of activities within a lesson). Activities are in bold to reduce cognitive load as students can easily scan a page and find where they should be. All RS workbooks have been created using Word, which means that during the live lessons I can easily share the document with the students via Teams and type directly onto it, making self-assessment easier.
The move to workbooks also provided opportunities to include other elements that would enhance teaching and learning. The benefits of retrieval practice (recall) are well documented. All lessons begin with a 'Do now' activity, which require students to revisit prior learning, often relevant to the lesson they're about to undertake. In this lesson on the concept of akhirah within Islam, students need to retrieve prior, relevant knowledge:

At the end of each unit, an entire lesson is dedicated to retrieval (and at Key Stage 4, multiple lessons). These lessons provided an opportunity to prepare for upcoming assessments and were perfect for completing 'offline' as students were revisiting prior learning. In some cases, I have deployed these lessons in later units to keep the students on their toes: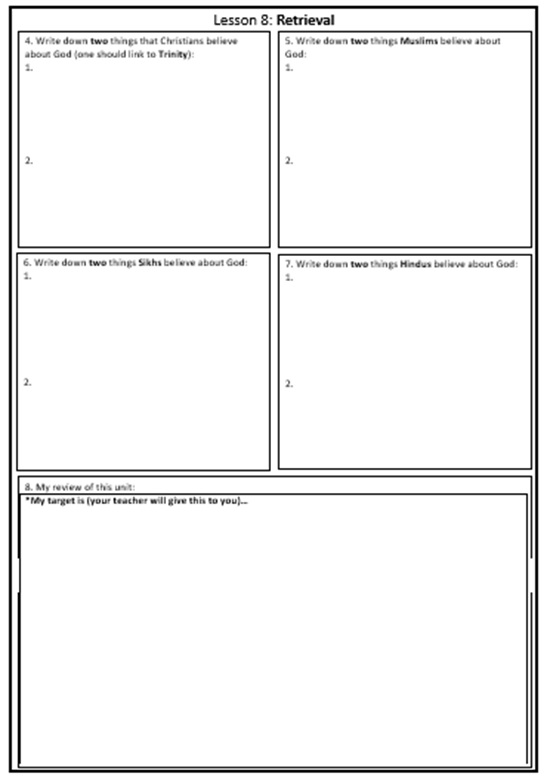 At Key Stage 4, the workbooks also provided the opportunity to include another important element that was vulnerable to time pressure – practice exam questions. I prefer students ot do these in class rather than at home as this promotes effective feedback, as well as giving a more controlled environment. At least two lessons are now dedicated to practice questions in each Key Stage 4 booklet. Example questions are included with example answers. These lessons are perfect for remote 'live' lessons – I provide scaffolds such as sentence starters whilst sharing my screen with the students. I can provide model answers which they can compare their own efforts against – feedback can happen in real time. I also include a page with example content which students can use if completing the lesson offline: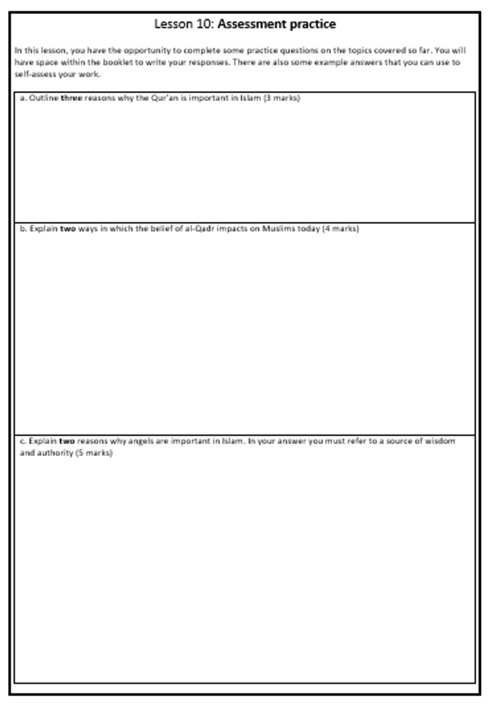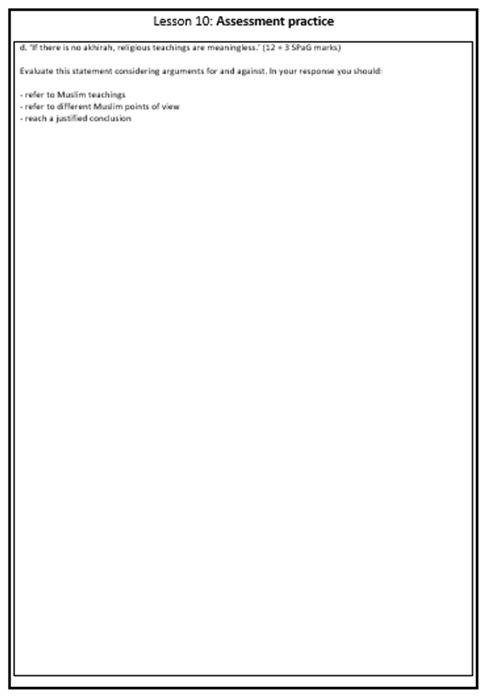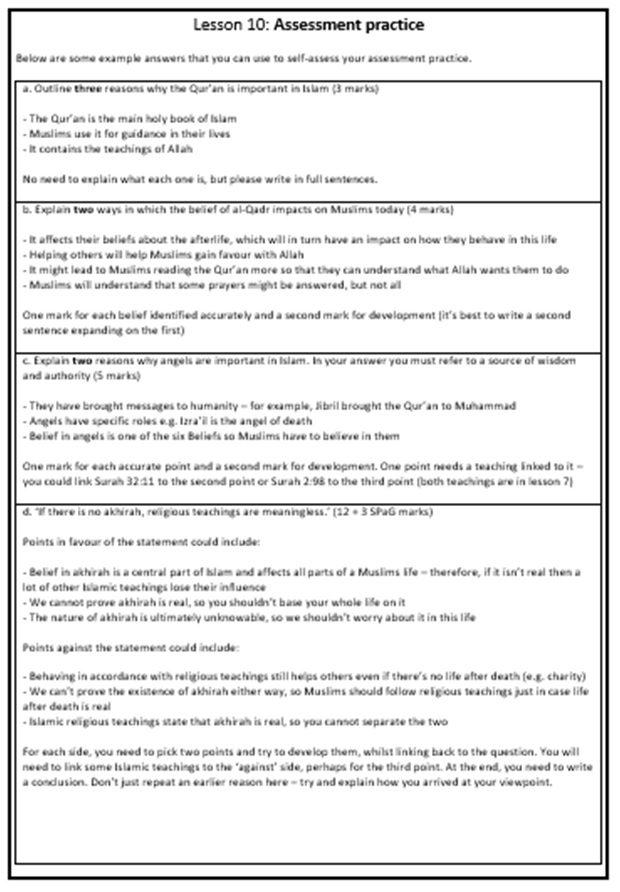 Despite the initial challenges, it is hard to underestimate the improvement the introduction of workbooks has made to teaching and learning in Religious Studies. Feedback from staff and students has been positive and initial indications are that their use is translating to improved performance in assessments. Pandemic or not, I would encourage any school not currently using them to consider their merits.
Mr Treagust, Head of Religious Studies