Year 7 Entry September 2018
Year 7 Applications
The admissions number for Year 7 2018 is 240 places, 24 of which are scholarship places for students with an aptitude in Sport or Music. There is a supplementary form for applications for a scholarship place. To find out more information regarding our Scholarships
click here
.
For admissions from primary school to Year 7 parent/carers are asked to complete the Common Application Form (CAF) available from their primary school or the London Borough of Sutton Admissions which can be accessed
here
. No applications made direct to CHSG will be accepted.
Parent/carers are strongly advised to read our Admissions Policy carefully (using the link at the bottom of this page) and information and advice from their local authority. The CAF must be submitted by 31st October 2017.
On 1st March 2018 parent/carer's will be notified of the school where their child has been offered a place. To accept this offer they should return the acceptance form to their local authority.
Those who did not receive an offer of a place at CHSG have the right to lodge an appeal against this decision.
Click here
for the Appeals procedure.
---
Year 7 Key Dates
The following key dates are of importance to potential applicants:
| | |
| --- | --- |
| 19th September 2017 | Secondary Transfer Evening for prospective applicants for Year 7 September 2018 (Early closure for current students at 2.00 pm) |
| 31st October 2017 | Deadline for submission of the CAF |
| 1st March 2018 | Local authority issues offer letters |
| 29th March 2018 | Deadline for submission of appeal |
| 19th June 2018 | Deadline for independent appeal hearings |
| 31st December 2018 | Waiting list closed |
Students behave well in lessons and around the school. Their conduct, manners and punctuality are good. They are courteous to adults, welcomming to visitors and respectful of one another.
Ofsted 2014
Why choose Carshalton High School for Girls for your daughter?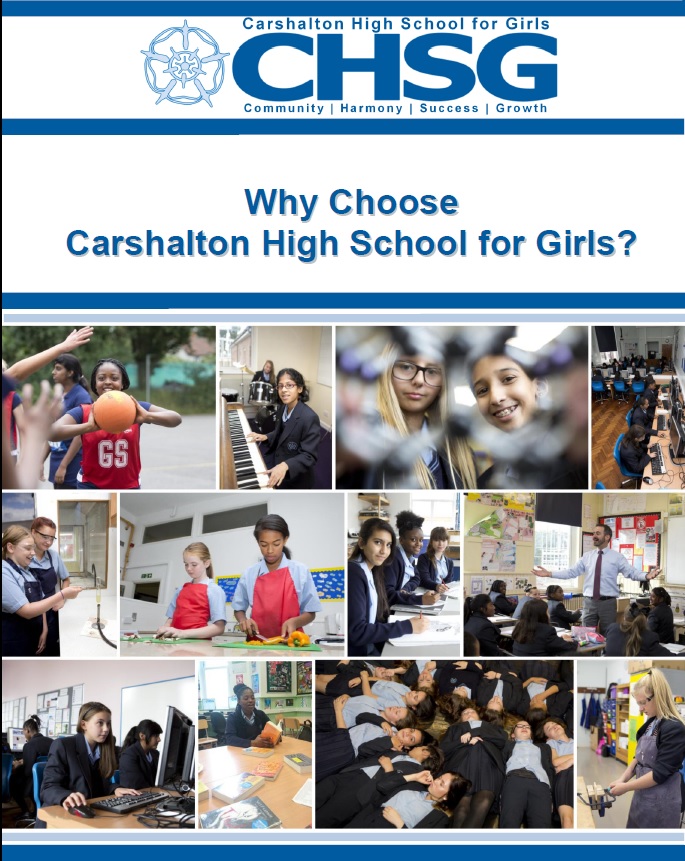 Are you starting high school with us in September? If so, you will find all your questions answered here.