Computer Science Key Stage 4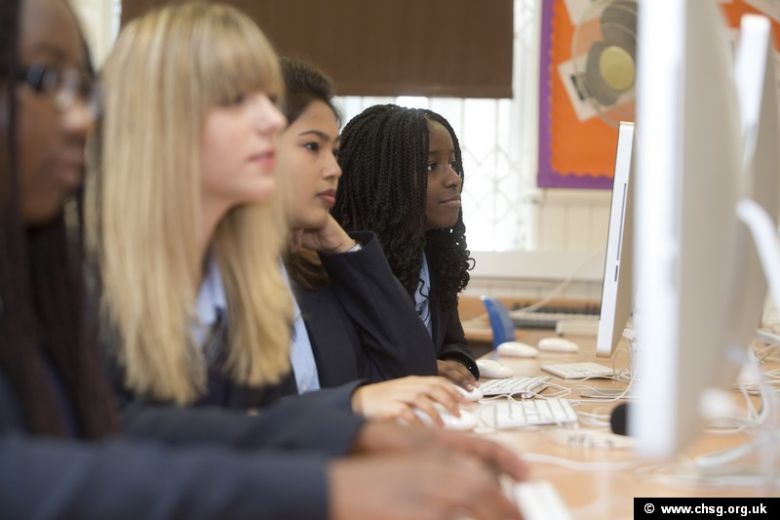 AQA GCSE Computer Science
Computing is of enormous importance to the economy. The role of Computer Science as a discipline itself and as an 'underpinning' subject across science and engineering is growing rapidly. The increase in the use of mobile devices and web-related technologies has exploded, resulting in new challenges for business. Employers today require an ever-increasing number of technologically-aware individuals and the course provides the knowledge, skills and understanding that are in demand.
The Computer Science GCSE enables students to:
develop their understanding of current and emerging technologies and the implications of these in society
gain an in-depth understanding of how computer technology works and a look at what goes on 'behind the scenes'
learn key computing concepts and the fundamentals of programming to solve problems in a range of contexts
create software for technologies they use; applications that run on mobile devices; interactive web enabled solutions and computer games
develop critical thinking, analysis and problem solving skills
evaluate the effectiveness of computer programs and the issues related to their use
work collaboratively
Assessment
Computational Thinking
What's assessed?
Fundamentals of algorithms
Programming
Fundamentals of data representation
Computer systems
How is it assessed?
Written exam: 1 hour 30 minutes
40% of GCSE 2
Theoretical content
What's assessed?
Fundamentals of data representation
Computer systems
Fundamentals of computer networks
Fundamentals of cyber security
Ethical, legal and environmental impacts of digital technology
How is it assessed?
Written exam: 1 hour 30 minutes
40% of GCSE
Non-exam controlled assessment
What's assessed?
Aspects of software development
How is it assessed?
Controlled assessments are set by the examination board on a range of tasks such as game making, mobile apps, interactive web applications or more traditional PC-based programs. Students will be asked to plan and develop a programming solution to a problem that meets the needs of users, as well as undertaking independent research.
Computing Science is not an easy subject to study and will quickly look into the technical workings of computer technology and programming. Students should have good Math skills as this will generally enable them to understand the logic required for programming. In addition, students will learn how to program using a range of programming languages in a range of different contexts.
Future pathways
This qualification provides a superb stepping stone for students who want to go on to A Level study and employment in the field of computer science, industry recognised ICT qualifications and vocational courses. It also supports progress in other A Level subjects such as Technology, Science, Engineering and the Digital Media and Arts.
AQA Technical Award Information Technology

Why should students take AQA Technical Award Information Technology?
IT involves creating end user systems from established building blocks to carry out a task. IT professionals are users of technology, utilising existing operating systems, software and applications in tandem to create a system that solves a specific business problem. They are likely to interact with clients to explain how to solve technology problems or work with business owners to construct a technology plan to meet their business needs. IT professionals are tasked with resourcefully and cost-effectively applying the tools at their disposal.
What will the learner study as part of this qualification?
Learners taking this qualification will study the fundamental aspects required in the three IT occupational areas covered by this specification: creative, data management and technical. They will also study the specific theory and skills required in their chosen occupational area in greater depth resulting in the creation and evaluation of an IT system.
Learning will take place through a mixture of real-life case studies, practical tasks and a study of theoretical concepts. They will develop their IT knowledge, understanding and skills. Learning will be engaging and take place in a vocational context, allowing the learner the opportunity to create products, or artefacts that demonstrate their ability to put theory into practice.
The occupational areas have been chosen from industry research showing current shortages of skilled people within the creative, data management and technical areas. To address these needs this specification will focus on the following:
Creative:
creating a website
creating an interactive entertainment product
Data management:
creating a spreadsheet
creating a database
Technical:
creating a small office network
building and configuring a PC
Assessment
Unit 1: Practical skills in IT
(internally assessed – 30%)
In this unit learners will develop a broad range of fundamental skills in two of the occupational areas.
Unit 2: Creating IT systems (internally assessed – 30%)
This unit allows learners to focus on one occupational area with a view to developing their understanding and skills in designing, creating, testing and evaluating a complete IT system to meet the requirements of an end user.
Unit 3: Fundamentals of IT (externally assessed – 40%)
This externally assessed unit will provide learners with the underpinning knowledge and understanding required to work within the IT industry, including learning what IT systems are, where they are used and their component parts.
What knowledge and skills will the learner develop as part of this qualification and how might these be of use and value in further studies?
Learners will gain a broad range of practical skills in IT that will be of use for further study and in their career; they will choose to develop skills in two of the three occupational areas. They will then explore one of these occupational areas in more detail and focus on the system life cycle to design, create, test and evaluate a solution to an IT problem. This will be underpinned with fundamental knowledge and understanding of IT including:
IT systems
Hardware
Software
Networks
Securing IT Systems
Emerging Technologies.
Learners will achieve a qualification that is relevant to the needs of industry, places them in a sound position for progression to further study and equips them with relevant employability skills.