'The Challenge' Project - Year 11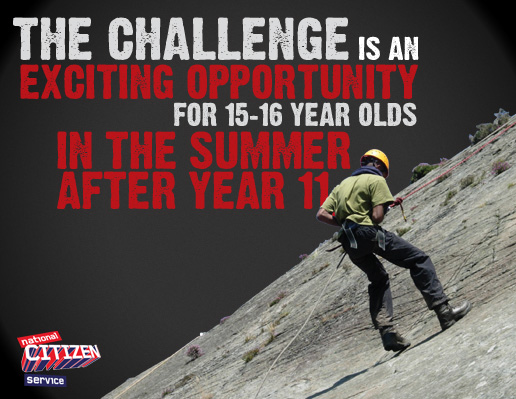 Year 11 students are invited to sign up to '
The Challenge
' - an exciting summer programme which connects young people from different backgrounds across London, builds confidence and inspires them to make a positive impact in their local area.
The Challenge is delivered by The Challenge Network, which is the largest provider of
National Citizen Service
, the government's new youth development policy. They deliver a three part programme, open exclusively to Year 11 students, which takes place in the summer after GCSE exams.
The first two weeks are residential, with all meals and accommodation provided. During the first week, young people take on intensive outdoor challenges such as abseiling and hiking. Next, they spend an inspiring week in university accommodation, gaining skills in an area they are passionate about, such as sport, drama or enterprise. The final week of the programme sees the young people design their own campaign, which they then put into action over four weekends in the early autumn.
On completion of the programme and following their graduation ceremony, the young people have the option of signing up to
The Challenge Society
, with further opportunities and benefits.
The Challenge Network asks parents for a contribution of just £50, with an 'early bird' discount price of £35, if the payment is made online
before Wednesday 28th March
. The remainder of the £1500 cost of running the programme is covered by the support of partners and government funding.
Representatives from The Challenge Network are speaking at an assembly at CHSG on the 7th March, during which students willhave the opportunity to express their interest in the programme. You can visit
www.the-challenge.org
for more information about the programme, or contact Shaun Cornfoot, the local Schools Coordinator, at
shaun.cornfoot@the-challenge.org
or telephone 020 7921 4404.
We highly recommend this unique and valuable opportunity and hope you will encourage your child to take part.