Year 7 Arrivals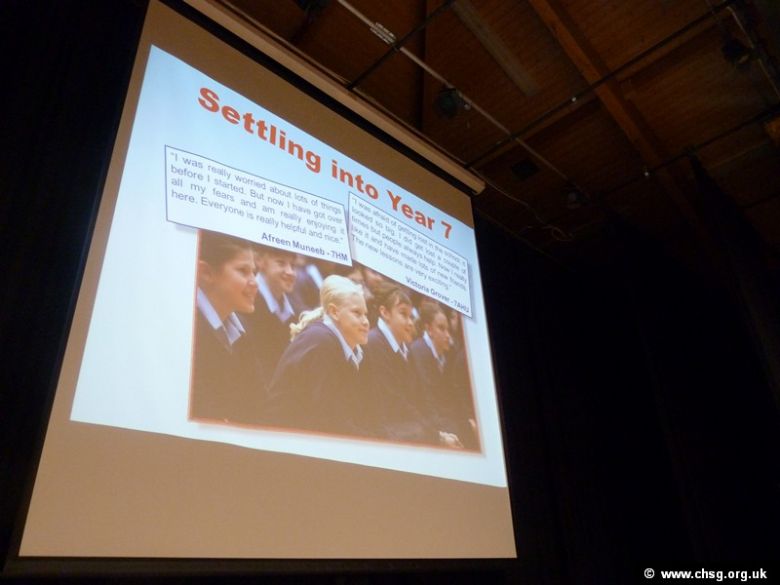 7th September was a big day for all our new Year 7 students. They all arrived bright and early in their new uniform and with their new equipment ready for their first day at Carshalton High School for Girls. Many girls had been to visit us whilst they were in Year 6 but there were lots of nervous faces and many with butterflies in their stomachs.
After an assembly with Miss Ingham-Brown, the Year Leader for Key Stage 3, the girls went off in with their Form Tutors and the rest of the students from their tutor group to start the day.
There was a lot of information to get through, for example, being given their timetables, finding out which teacher they had for Art and how they would actually get to their Art classroom. After 3 hours with their Tutor the girls then started their first lessons. A few girls got lost on their way, but they got shown where to go by students in other years, so they soon got to the right place wit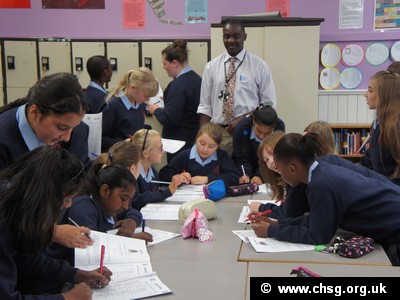 hout any big problems.
Tutors met up again with their tutees at the end of the day to check that all was ok before they went home. The girls were all happy with how the day went and were excited to see what the next brought.
It has now been 2 weeks since our new Year 7 students joined us, they have all settled in well now and it already feels like they have been with us for years. Here are some of their comments:
I was scared at first and worried about everything but now I am really enjoying it, have made lots of new friends and the lessons are fun.

Dana, 7AHU

I was worried about getting lost but everyone helps you so it is fine. I have made new friends and now am really enjoying it here.

Zaynab, 7GH

I was really excited about coming here. I am really enjoying it. I have made new friends and am enjoying all the different lessons.

Sophie, 7JM

I am finding remembering my books and everything hard. I think ICT is cool.

Samantha, 7CC

I am enjoying it here. The lessons are better than I expected. I have made new friends.

Annais, 7GH

I have enjoyed meeting new people and making new friends.

Danielle, 7HM

I have enjoyed the new subjects and learning new stuff. Food Technology is cool and German is exciting.

Crystal, 7CC

I was really worried about lots of things before I started. But now I have got over all my fears and am really enjoying it here. Everyone is really helpful and nice.

Afreen, 7HM

I was scared about everything before I started but now I have made friends in my classes and I am enjoying it here now. Everyone helps me.

Jadeen, 7RK

I was afraid of getting lost in the school, it looked so big. I did get lost a couple of times but people always help. Now I really like it and have made lots of new friends. The new lessons are very exciting.

Victoria, 7AHU

I found homework hard at the beginning and some of the classwork was difficult. But now it is getting easier because I am getting used to the school routine. I have made new friends too.

Rebecca, 7RK

when I did, all the older girls and the teachers helped me and were nice, so I didn't feel scared to ask for help after that.

Joy, 7MOS

It was hard to find the classrooms at first but now I have got used to where they are. I have made new friends and am enjoying the new lessons.

Fajah, 7MOS
Browse our photo gallery to see more photos of the Year 7 students' first day.