Seville Trip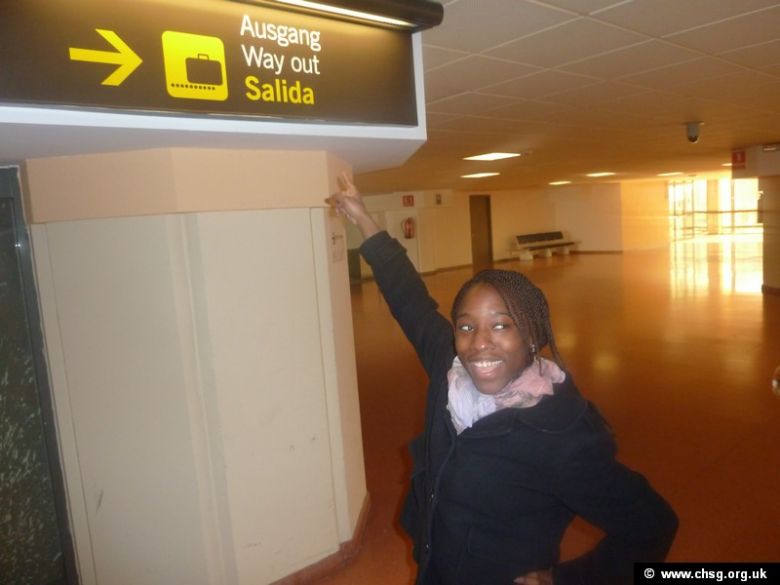 After arriving bright (not strictly true) and early at school at 3 am on Thursday 9th February, 30 students of Spanish tutor groups in Years 8 to 11 and Mrs Lopez, Miss Wall and Miss MacKinnon embarked on an epic journey to the sunny straights of Seville, Spain.
After arriving in Malaga from our EasyJet flight, we had a two hour coach journey to sleep off our early start, with a stop off halfway where, much to Mrs Lopez's dismay, many girls ordered "patatas fritas" but she was pleased that Spanish was being practiced nevertheless.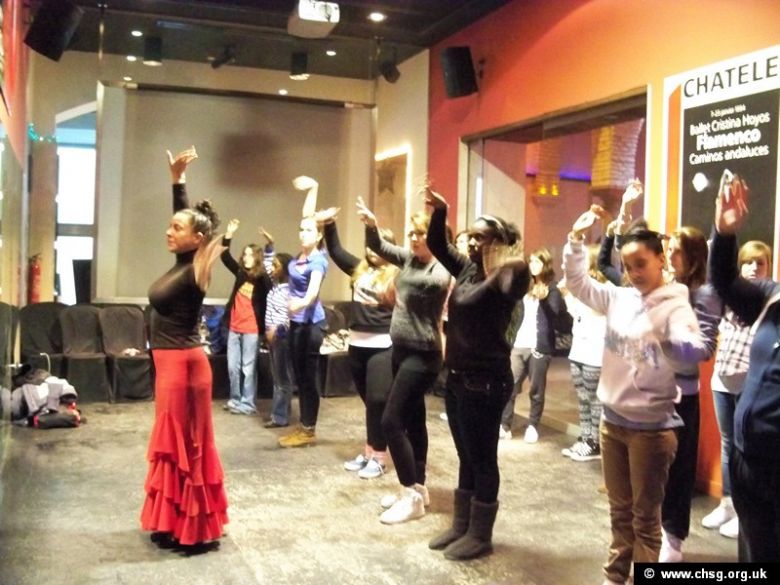 After unpacking our things at our hostel in the centre of the city, we walked to the La Habanita restaurant, which would be our dining place for the next few days. The staff at La Habanita were very accommodating and were impressed with the students' Spanish and treated the girls to coca-cola and "patatas fritas"(again!)
on the last day. Miss MacKinnon also enjoyed a birthday surprise, all be it on the wrong day, with a cake and a little tapas cookery book – Food Tech students watch this space!
After a lovely meal, we walked around the corner to the Museo de Baile Flamenco (Flamenco Museum) where the students were divided into two groups for a dance workshop. The students learnt the steps and claps of basic flamenco, and despite being very tired, gave it their all. Amber looked particularly graceful! Click
here
to see more about flamenco and a video of this dance school. After the dance class, students saw their teachers perform in a show opened to members of the public, which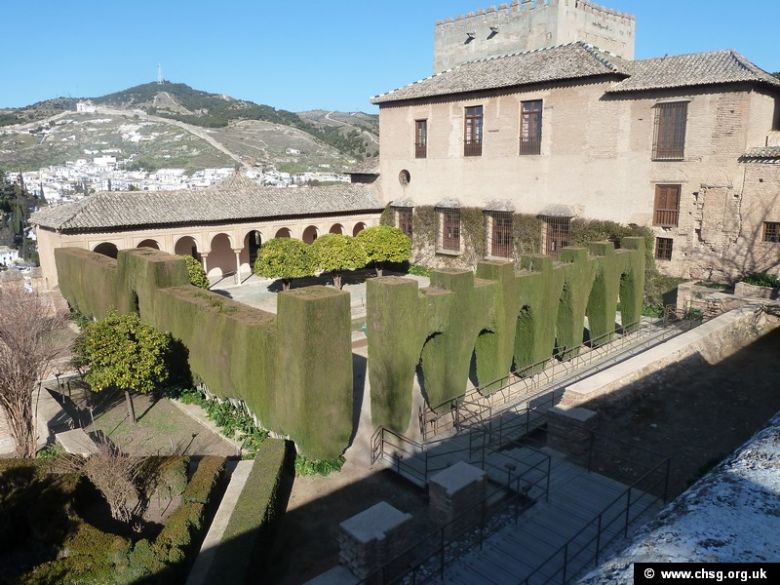 included a film crew from the Daily Telegraph. There was a live guitarist, singer, the male dancer and female dancer. At one point, Mrs Lopez almost got hit with the lady dancer's beautiful flamenco dress!
On Friday we travelled by coach to Granada to see La Alhambra, a beautiful palace and garden from the days when the city and much of Spain belonged to the Arabic Moors. We had our packed lunch on one of the terraces, and then entered the magnificent palace. The walls were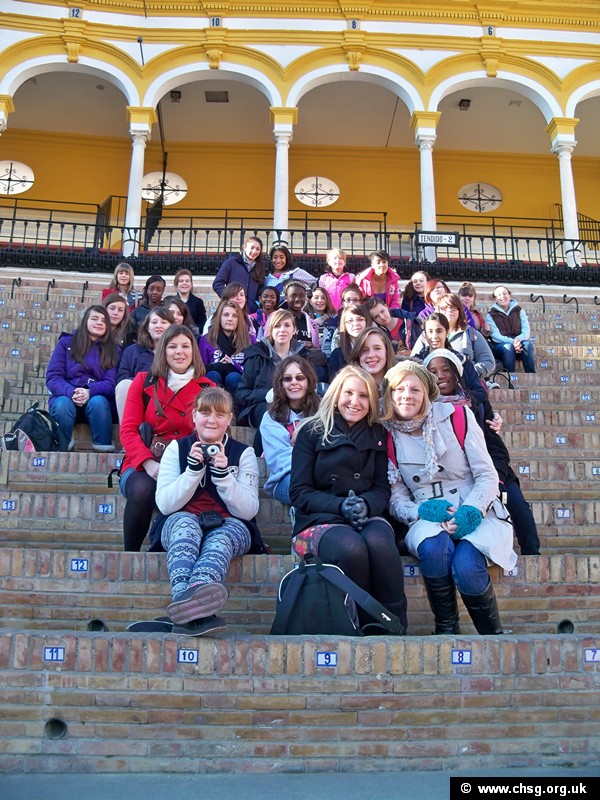 ornately decorated in Arabic lettering and patterns. It had the students in awe.
On Saturday, we started off our day with a tour of the Plaza de Toros, where the history, traditions and customs of bullfighting were explained. The girls were impressed with how much they learnt and how much more they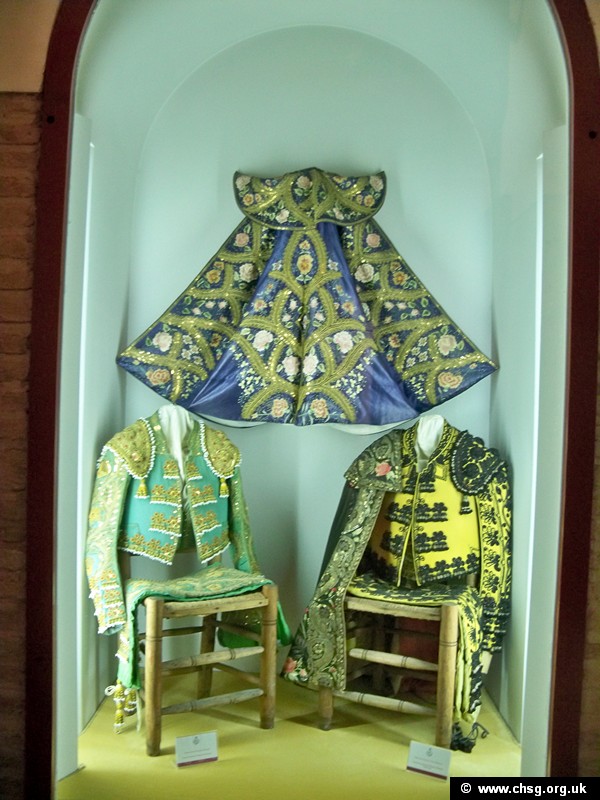 understood of the tradition. After this we got onboard an open top bus for a tour of the city. The bus took us over the river to the Triana district and the site of the modern architecture from Expo'92.
After a somewhat windswept journey, we got off at Plaza de España, an amazing square with fountains, a canal and tiles detailing every province in Spain. Adjacent to the plaza was the beautiful María Luísa park. There we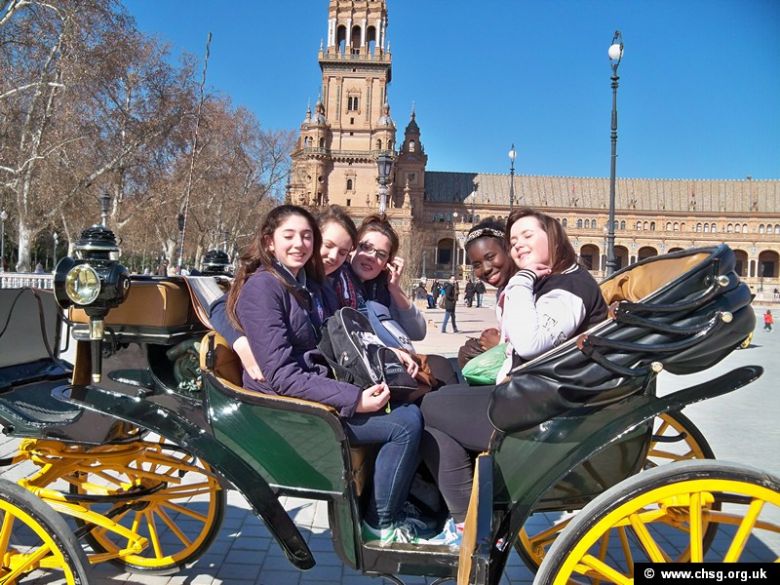 took a horse and carriage ride and practiced our Kate Middleton waves!
We then walked along the river to the Plaza de Armas shopping centre, a former railway station to do some shopping. In the evening, the younger students did a quiz with Miss MacKinnon and Miss Wall while Mrs Lopez took the older students on a walk around the corner to Plaza Encarnación,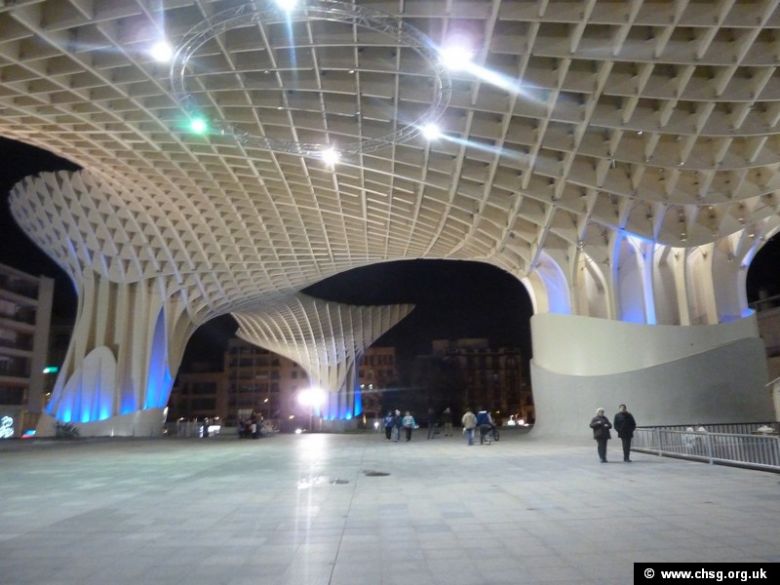 a plaza that was recently developed to includea mini-shopping centre, a glass floor showingoriginal Roman mosaic and the big "mushroom", or modern art installation covering the top of the plaza.
Sunday started with a trip to the Real Alcazar palace. This palace, like La Alhambra, was built in Moorish times and has been used since the reconquest by various Spanish monarchs. Again students and staff were impressed with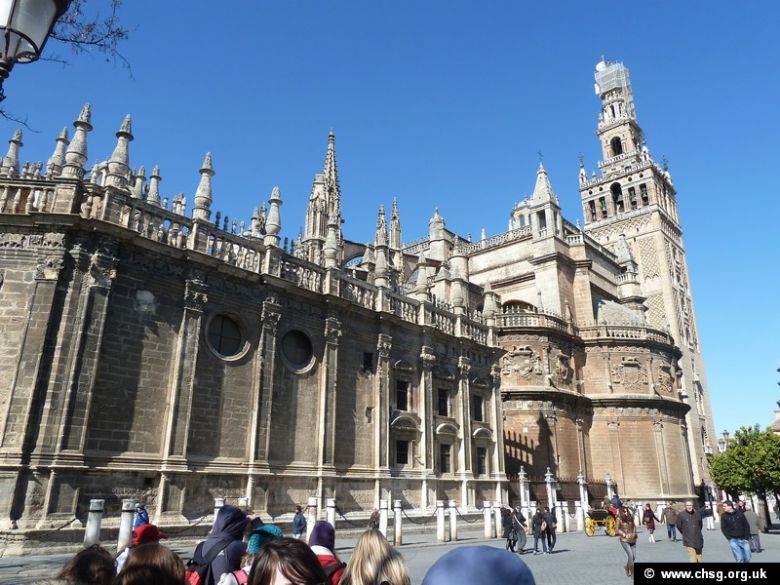 the detailed architecture. Being a particularly cold day, we thought a hot chocolate, accompanied by the tradional churros were definitely in order afterwards! In the afternoon, we went to the Cathedral and climbed the 32 floors of La Giralda Tower, which used to be part of the great mosque of Seville. Students had the opportunity of listening to a Spanish tour guide, who explained the history of the Cathedral and spoke about the tomb of Christopher Columbus.
After dinner we caught a bus to Nervión Plaza shopping centre to go bowling and play on various games in the New Park arcade. Mrs Lopez met the mother of her exchange partner from a school exchange she did over 10 years ago and students in Years 10 and 11 enjoyed speaking with her in Spanish.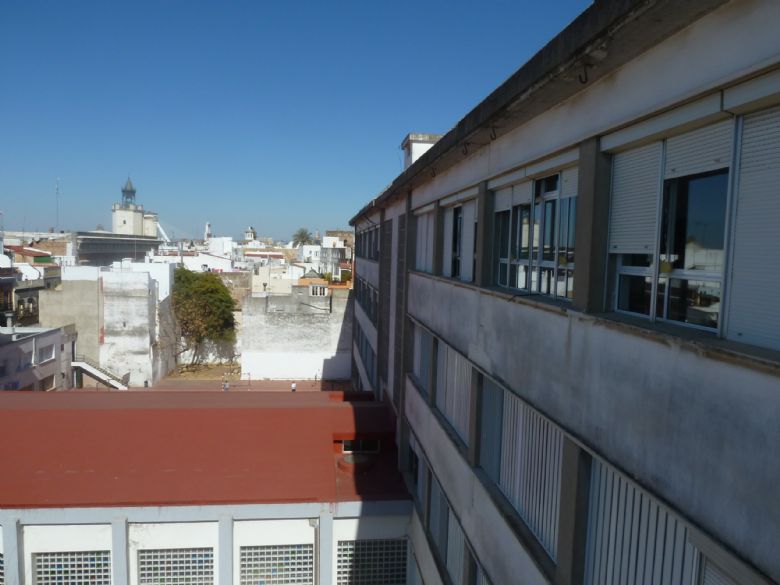 On Monday, we visited Instituto Valezquez, a secondary school very close to our hostel. We arrived just as the Spanish students were finishing their break, so caused quite a sensation. Once inside the school, we were greeted in the assembly school with a specially made lunch for us. Students talked to their email penfriends and to each other about life in the different countries. Spanish students put on a Sevillana dance performance and got our students to join in. Students were taken in groups for a tour of the school and after we had a question and answer session led by Hannah and Imani in Year 11. After being so embarrassed about coming to the Spanish school, students were reluctant to leave! We thank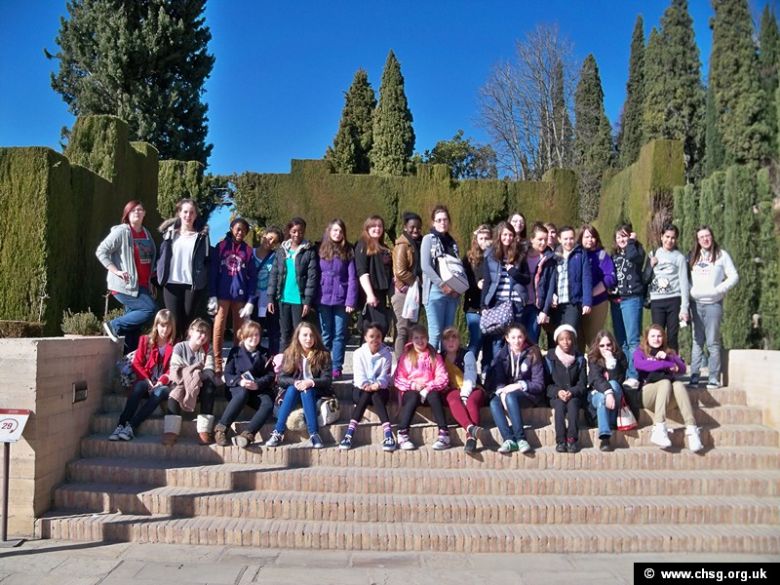 Instituto Valezquez for making us feel so welcome, we really did enjoy ourselves and we will endeavor to keep in contact.
Students were a real credit to the school, behaving appropriately at all times and practicing their Spanish at every opportunity. All year groups mixed together and nobody was ever left out. We truly enjoyed our trip and are already looking forward to planning another!!!
Please remember the feeling you get when you speak another language and you are understood and vice versa – that feeling can only get better, the more of the language you study!
¡Viva España! ¡Viva Sevilla!
To see all the photos of this fabulous trip, click
here