Music, Drama and Dance
What a term the Autumn Term was for Music, Drama and Dance!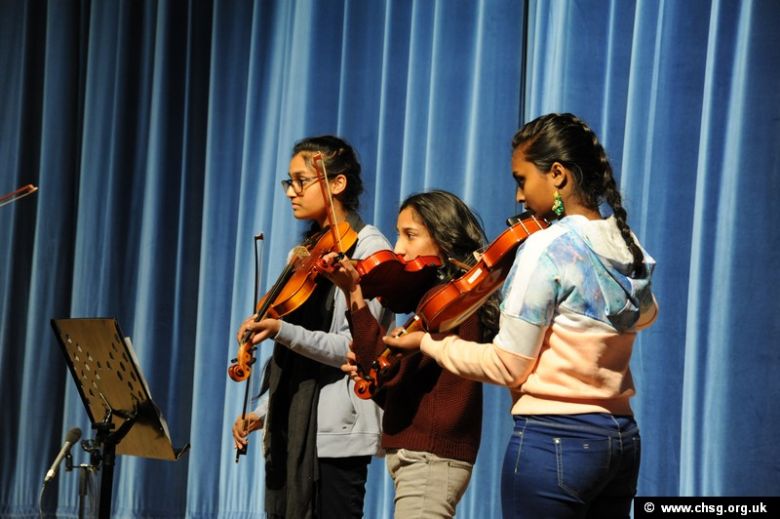 The Winter Celebration of Music was a night to remember for all staff and students involved. The new orchestra featuring strings, flute, clarinet, piano and trombone performed a beautiful version of 'Carol of the Bells', 'In the Bleak Midwinter' and 'Arrival of the Queen of Sheeba'. This group is brand new and the students involved are looking forward to continuing to work as an ensemble in the new year.
All students who play an orchestral instrument to a Grade 1 standard or higher are welcome to join us at lunch time on Tuesdays.
The CHSG Choir, lead by conductor Corrine Hart from the
Sutton Music Service
, performed both unaccompanied and accompanied songs. The choir, who rehearse every week after school on Monday have come on leaps and bounds this term, venturing into more difficult repertoire and three part harmony.
The students who sing in the choir have shown incredible dedication and diligence and we are so proud of their performances. We look forward to them continuing to develop in the new year, including a workshop in
Disneyland Paris
. All students are welcome to join the choir and we hope to see more new faces in the Spring Term.
The highlight of the celebration was beyond a doubt, the wonderful performance of Year 7 and Year 8 students in 'Elf Jnr' the musical. This production was entirely supported and created by Key Stage 3 students, who did everything from
creating the set, fundraising, working back stage and of course taking on the roles of elves and the festive citizens of New York City! The entire cast of talented students showed great dedication for the production, auditioning in September and rehearsing 2-3 times a week on singing, dancing and acting. Their hard work is truly an inspiration for the rest of the school!
Katy B in Year 8 made an unforgettable Buddy the Elf who brought the stage to life with her enthusiastic rendition of SparkleJollyTwinkleJingley. Georgina L performed the role of Jovie showing that even the most overworked, tired employee can join in with Christmas cheer. Ellie S made a very convincing Santa Claus, while Semi rivalled her as the hilarious "fake Santa". Lily B, performing the character of Walter Hobbs, made us believe that even the most grinchy, grouchy bosses can find the magic of Christmas and was accompanied by Issy and Lara, playing Emily and Michael Hobbes, who sang a beautiful duet together
.
All the cast performed the musical to an exceptionally high standard, and reminded the audience that "the best way to spread Christmas
Cheer is singing LOUD for all to hear". We look forward to the cast joining in with Annie the Musical with Year 9 and 10 in the Spring Term.
Congratulations to all our hard working actors, dancers and musicians!